Hungary's Orban defies foreign criticism over laws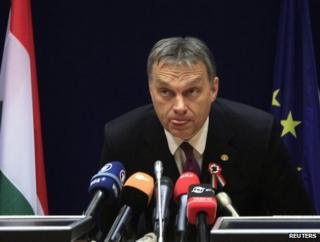 Hungary's conservative Prime Minister Viktor Orban has defied EU and US criticism of constitutional amendments, insisting they are democratic.
Speaking in Brussels before a summit of the EU's 27 leaders, he said such criticism was based not on facts but political opinion.
Budapest has repeatedly clashed with Brussels over what are seen as Mr Orban's attempts to extend his power.
Some recent amendments were previously struck down by Hungary's top court.
They range from limiting the power of the Constitutional Court to requiring students who receive state grants to stay and work in Hungary for a certain period of time after graduation, or pay back their fees.
In another development, an opposition radio station, Klub Radio, won the right to a permanent frequency after a two-year legal battle with the media regulator.
Two-thirds majority
Mr Orban challenged anyone to prove the amendments went against EU rules.
"Who is able to present even one single point of evidence, facts may I say, which could be the basis for any argument that what we are doing is against democracy?" he said, speaking to reporters.
"Without facts there is no sense of any general political discussion."
He has argued that the amendments approved this month by parliament were necessary to complete the work of eradicating the legacy of communism from Hungary.
However, European Commission President Jose Manuel Barroso said the amendments raised "concerns with respect to the principle of the rule of law, EU law and Council of Europe standards".
The constitution, enacted in January 2012, replaced one drafted in 1989, when the country was emerging from 40 years of Soviet domination.
Mr Orban has been able to push through changes because of the two-thirds majority his Fidesz party and its allies enjoy in parliament, following the 2010 election.