EU summit: Austerity push challenged amid mass protests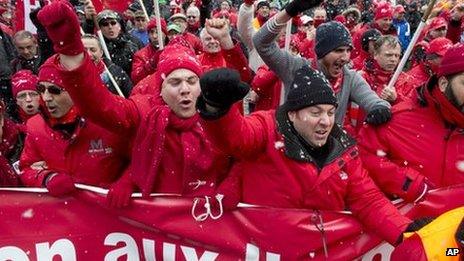 The issues of jobs and growth have dominated EU talks in Brussels, amid mass protests in the Belgian capital.
France, Italy and some other countries pushed for growth-friendly spending to tackle the problems, while Germany advocated strict austerity measures.
Thousands of protesters rallied outside the summit venue, saying government spending cuts were hitting jobs.
The eurozone as a whole has been in recession for more than a year and unemployment is now just under 12%.
Some 26 million people across the 27-member EU - including about seven million young people - are currently out of work.
'Frustrations and despair'
In Brussels, French President Francois Hollande pressed for more flexibility in the budget targets set by the EU Commission.
France, hit hard by the debt crisis, is expected to miss its budget deficit targets this year.
Outgoing Italian Prime Minister Mario Monti also argued that his country - and other EU members facing public finance pressures - should be allowed to spend to create more jobs.
He warned his European colleagues that "public support for the reforms, and worse, for the European Union, is dramatically declining".
This is expected to be the last EU summit for Mr Monti, an unelected technocrat who had firm backing from Brussels but got just 10% in last month's Italian elections.
Meanwhile, German Chancellor Angela Merkel defended the austerity policies, saying that "budget consolidation, structural reforms and growth are not in contradiction but are mutually reinforcing".
Mrs Merkel remains determined to keep Europe focused on budget discipline, to prevent any resurgence of market jitters about eurozone stability.
European Council President Herman Van Rompuy said the EU leaders had reaffirmed the need for sound government finances, but there was a hint of greater flexibility in his language, the BBC's Andrew Walker in Brussels reports.
Such policies do allow for deviation from borrowing targets if they are due to the weakness of the economy, our correspondent says.
At the same time, Mr Rompuy admitted that the EU leaders were "fully conscious" of "the mounting frustrations and even despair of the people".
Some economists argue that in current circumstances austerity can actually make government borrowing rise, partly because of the impact that declining production has on tax revenue and welfare spending, our correspondent says.
The summit conclusions on Thursday included a call for more effective tax collection, saying "it is important to ensure that everybody pays their share of taxes".
There is a drive in the EU to pursue tax evaders, including some big corporations who exploit the complexity of commercial law to reduce their tax bill.
The UK is especially keen to make the EU single market function as was intended. Some big single-market initiatives are not yet in place, including new rules on recognition of professional qualifications, e-signatures for cross-border business and the posting of workers abroad.
Proposals to deepen eurozone integration will dominate an EU summit in June. The first "building block" of that will be a banking union, which will give the European Central Bank (ECB) far-reaching supervisory powers.