Bolshoi cast defend dancer arrested over acid attack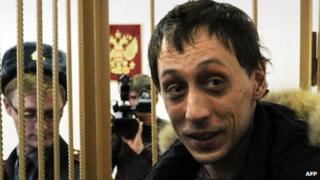 More than 300 members of Russia's Bolshoi Ballet have come out in defence of a dancer accused of masterminding an acid attack on the artistic director.
In an open letter to President Vladimir Putin, theatre staff said the idea that soloist Pavel Dmitrichenko was behind the crime was "absurd".
The dancer has admitted to discussing an attack on Sergei Filin, but denies ordering the use of acid.
Mr Dmitrichenko was arrested with two others earlier this month.
Police said they believed Mr Dmitrichenko had paid 50,000 roubles (£1,090; $1,600) for the attack on Mr Filin.
The artistic director's eyesight was damaged when a masked attacker threw sulphuric acid in his face in January.
After a series of operations on his eyes, the 42-year-old has been moved to Germany, where doctors have expressed hope that further treatment may be able to restore good vision.
'Strong pressure'
After initially admitting to masterminding the attack, Mr Dmitrichenko later changed his testimony to saying that he had not known acid would be used in the assault.
Bolshoi theatre staff - including dancers as well as choir, orchestra and stage members - said Mr Dmitrichenko's confession had seemed forced.
"For everyone who knows Dmitrichenko, the very idea that he could have thought of and ordered this crime - committed in such a brutal manner - is absurd," read their open letter.
"The conclusion made by the investigation seems premature to us, the evidence unconvincing and Pavel's confession itself, which was later changed, the result of strong pressure."
A copy of the letter was published on Russian websites.
Last Thursday, Mr Dmitrichenko appeared in court with Yuri Zarutsky, who is suspected of carrying out the assault, and Andrei Lipatov, accused of driving a getaway vehicle.
Mr Dmitrichenko said he had told Mr Zarutsky about corrupt practices at the Bolshoi Ballet.
He added: "When he said: 'OK, let me beat him up, hit him over the head', I agreed. But that is all that I admit to doing. It's not true that I ordered him to throw acid at Filin."
The court ruled that the three would remain in custody pending a trial. They were later formally charged with grievous bodily harm.
Mr Dmitrichenko has been with the Bolshoi Ballet since 2002. He is a leading soloist, one level down from the very senior male dancers known as premiers.
He has been performing the lead role in Sergei Prokofiev's Ivan The Terrible.
The attack spurred a round of vicious recriminations among some of the leading lights of the theatre.
Suspicions were cast on dancer Nikolai Tsiskaridze, who was accused by Bolshoi manager Anatoly Iksanov of inspiring the attack, if not being behind it.
Mr Tsiskaridze was questioned, but denied any involvement and has not been charged.