'Mother and children' die in German house blaze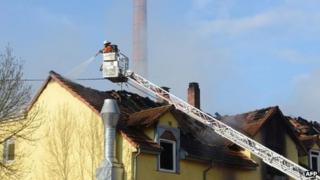 A fire has swept through an apartment building in the town of Backnang in southern Germany, killing eight people, police say.
Initial reports point to the dead being a mother and her seven children. Four people were rescued from a balcony.
The building, a converted former leather factory, has a German-Turkish cultural exchange association on the ground floor.
But police said there was no indication of arson or a "xenophobic" attack.
The fire broke out in the early hours of Sunday morning.
Investigators trying to determine the cause of the blaze are focusing on an oven or heater on the first or second floors.
The blaze was fierce and hundreds of firefighters were called in to tackle it.
Some 13 people were registered as living in the building but it is unclear how many were present at the time of the blaze.
There will be keen interest in the incident because in the past, the police have been accused of being slow to see any racist connection to crime, the BBC's Stephen Evans reports from Berlin.
Police said in a statement: "There are no indications of arson or a xenophobic motive."