Poland plant halts production over rotten meat row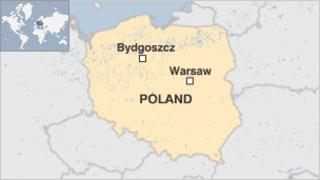 Foods inspectors in Poland have stopped meat production at a plant following claims that it was adding rotten meat to its products.
The allegations were made in a TV programme that included secretly filmed footage from the Viola plant in the northern village of Lniano.
It purports to show meat returned by shops being re-used to make sausages and ham.
The firm - which exports to several EU countries - denies the allegations.
The claims come amid a widening horsemeat scandal in the EU.
Since the first horsemeat was discovered in frozen meals and burgers in the UK and Ireland in January, traces have been found in meat products across Europe.
'Green mould'
In the programme on TVN24 channel, an undercover journalist is shown touring the plant, near the city of Bydgoszcz, and speaking with workers under the guise of applying for a job.
The footage then shows employees in storage rooms taking meat that had been returned from shops.
At one point, one worker holds up a sausage covered in green mould, saying it would be cleaned, dried and re-used.
Another worker says tonnes of old meat were recycled instead of being thrown away.
TVN24 also quotes a letter signed by the plant's management, which reads: "There are no grounds for the allegations."
The company says it exports to the UK, Ireland, Germany and Lithuania.
This latest incident comes just over a week after inspectors found horse DNA in meat labelled as beef in three Polish meat-processing plants, the BBC's Adam Easton in Warsaw reports.