Dublin airport: Small aircraft damaged on landing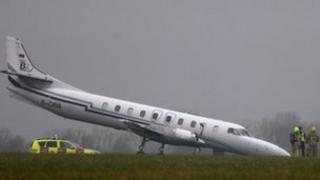 Two crew members have escaped injury after the nose of their cargo plane collapsed on landing at Dublin airport.
It happened at 08:33 GMT, and the main runway was closed for a number of hours as the light aircraft was disabled by the damage it sustained.
Air accident investigators have been called in to examine the scene.
Flights were disrupted for a time, but staff have confirmed the airport is now "operating as normal" and they advised passengers to check in as usual.
In a statement on its website, Dublin Airport said the incident "involved the apparent failure of the nose wheel of a Metroliner aircraft which was operating a cargo flight at the time".