Profile: Pavel Dmitrichenko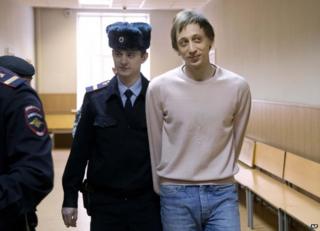 Pavel Dmitrichenko, the Bolshoi Ballet first soloist jailed for six years for organising the acid attack on artistic director Sergei Filin, once said he had never wanted to be a ballet dancer.
Interviewed by Russia 24 TV last year, for a feature about fellow Bolshoi dancer Angelina Vorontsova, he recalled how his mother had persuaded him as a little boy to give up football and go to dance school in return for a Mars Bar.
"As a result I ended up in dance school against my will," he said smiling, during a break from rehearsals with Ms Vorontsova.
But when, in 2006, he took the lead role of Yashka the gangster in in the Bolshoi's production of Shostakovich's ballet The Golden Age, it settled him for a career in dance, he said.
After that, roles as a villain predominated - from Von Rothbart in Swan Lake to Ivan the Terrible in the ballet of the same name. In Romeo and Juliet, he had the part of the main antagonist, Tybalt.
At 29, fresh from being promoted to first soloist, he was at the peak of his powers when Moscow police arrested him over one of the most shocking crimes to have hit the ballet world in recent memory.
There is speculation that his part in the crime - he confessed to ordering an attack but denied knowing it would involve acid - is connected, at least in part, to his feelings for Ms Vorontsova, 21, who is said to be his partner.
Dozens of dancers and other staff at the Bolshoi made a plea for leniency at his trial, attesting to his "decency, flawless professionalism... and wonderful human qualities" in an open letter published in Izvestia newspaper.
The letter said: "In the open trial, the public has heard absolutely no evidence confirming his guilt."
'Only a pretext'
Dmitrichenko was born in Moscow on 3 January 1984, into a family of distinguished folk dancers.
It appears his time at ballet school was a stormy one. In a 2009 interview for Russian TV, he said he had been expelled five times for "acting the hooligan, throwing firecrackers at the teachers".
However, his excellent results kept him in school and he joined the Bolshoi in 2002.
By 2006, he had been thinking of quitting ballet "after a year or two", he told Russia 24, but the artistic director of the time, Yuri Grigorovich, persuaded him after The Golden Age that ballet was his calling.
Among the roles that followed were Spartacus in the ballet of the same name (2009) and Jose in Carmen Suite (2010).
Ivan the Terrible (2012) was seen by his tutor, Alexander Vetrov, as being potentially his "role of a lifetime".
As the soloist's career progressed, Ms Vorontsova did not achieve similar leading roles and Russian media have speculated that Dmitrichenko blamed Mr Filin for blocking her advancement unfairly.
When news broke of his arrest, a police source told Izvestia newspaper: "The main motive was enmity towards Filin, who according to the suspect, had a negative attitude towards his partner.
"Dmitrichenko said that Filin was thwarting Vorontsova's artistic career and did not give her the main roles."
Sergei Filin's wife, Maria Prorvich, told Komsomolskaya Pravda newspaper she believed Ms Vorontsova was unlikely to have been the only cause of the conflict.
"Sergei thinks the motives of the crime are somewhat different,'' she said.
"The girl is only a pretext, but certainly not the main cause of the crime.''
A lawyer for Mr Filin, Tatyana Stukalova, suggested the atmosphere of danger at the Bolshoi ran deeper.
"Threats against people who worked and still work at the Bolshoi Theatre began long ago, two years ago," she said on state TV.
"One should not speak now of only one motive, that it all occurred because of Ms Vorontsova."
'Bad things'
The soloist himself did not say anything about Ms Vorontsova when he spoke about his motives in court.
Instead, he said he had been angered by Mr Filin's decisions on how money was allocated to dancers at the theatre.
There were, he said, "bad things" going on at the Bolshoi.
He admitted paying a man, Yuri Zarutsky (now also convicted), to attack Mr Filin, but not with acid. Judicial sources have spoken of a sum of 50,000 roubles (£1,080; $1,630; 1,250 euros).
"In regard to [accusations] that I ordered him to splash Sergei Filin with acid, this is a total lie," he said in court.
"I did not do that, absolutely no."
When he heard that Mr Filin had been splashed with acid, he was "just in shock", he added.
"I could not believe that the man who proposed beating him up went ahead and did this thing with acid," Dmitrichenko said. "I did not order harm done to this man."