Magnitsky case: Russia accuses Browder over Gazprom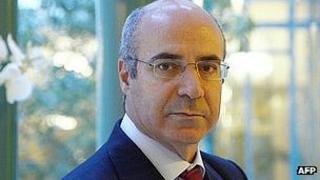 Russia is preparing new charges against UK-based fund manager Bill Browder, whose lawyer died in a Russian jail but now faces tax evasion charges.
Mr Browder will be accused of illegally buying shares in Russia's gas monopoly Gazprom, the interior ministry said. Mr Browder called the move "absurd".
On Monday a Russian judge ruled that a trial of the dead lawyer, Sergei Magnitsky, should go ahead next week.
Mr Browder, who runs Hermitage Capital Management, is to be tried in absentia.
Speaking to BBC Russian, Mr Browder said Russia's President Vladimir Putin "has given an instruction to law enforcement agencies to charge me with any crime they can think up, no matter how spurious or absurd".
"Every single securities firm in Russia set up derivatives structures which were legal, to invest in Gazprom shares... there was nothing illegal going on," he said.
Mr Magnitsky died after his pancreatitis went untreated. He had uncovered an alleged $230m (£150m) tax fraud involving Russian government officials.
Nobody has been convicted over his death or the alleged theft from Russian state coffers.
However, Mr Magnitsky and Mr Browder were charged with tax evasion in the wake of Mr Magnitsky's offer of evidence to the Russian authorities.
Diplomatic freeze
The new charges against Mr Browder were read live on Russian state television's rolling news channel, Rossiya 24.
An interior ministry official, Mikhail Alexandrov, said: "We're talking about not only personal enrichment with the violation of Russian laws by illegally buying up stocks in strategically important gas monopolist Gazprom, but it's about intending to impose their own rules on that company.''
Mr Browder tried to amass a 2.13bn-rouble (£46m; $70m) stake in Gazprom between 2001 and 2004, Mr Alexandrov alleged.
Mr Browder said the new charges were politically motivated, and were connected to his involvement in the US Magnitsky Act, a law blacklisting Russian officials accused of human rights violations.
The law has been condemned by the Russian government and strained relations between Russia and the US.
In retaliation, Russian President Vladimir Putin signed a Russian law barring Americans from adopting Russian orphans.
Putin 'an oligarch'
In 1995-2006 Hermitage Capital Management was one of the biggest foreign investors in Russia. Mr Browder campaigned for the rights of minority shareholders, criticising the governance of Russia's partly state-owned corporations.
Mr Browder was barred from Russia in 2006 and is now in Britain.
He told BBC Russian on Tuesday that the latest accusations were "completely retaliation for the campaign for justice for Sergei Magnitsky".
"It's now clear that Putin was only fighting with the oligarchs to become the biggest oligarch himself," he said.
He called the Magnitsky Act "the one tool that the West can use to challenge the impunity and criminality that goes on inside of Russia".
He said he had bought Gazprom shares in order to invest in the Russian economy and influence the Gazprom management because "we noticed that there was huge fraud going on at the company".
Mr Browder insists that the way he bought the shares - through Russian-registered subsidiaries entitled to tax advantages - was legal and used by other foreign investors at the time.