Genetic mother wins 'landmark' case in Irish court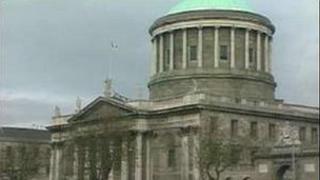 The genetic mother of twins born to a surrogate is "relieved and delighted" after winning a landmark case in Ireland to be recognised as the legal mother.
The High Court in Dublin ruled in favour of the woman.
Her sister had given birth to the children using the woman's embryos.
She took the legal challenge after the chief registrar refused to record her name on the birth certificates.
Outside the court on Tuesday, Marion Campbell, the woman's solicitor, said the official documents could now be amended to reflect the true position that the genetic mother should be legally recognised as the children's mother.
"We are delighted with the outcome of today's hearing," she said.
"My clients and their children's rights have been vindicated by this judgment.
"It has been a very long, hard and emotional time for them and they would like to express their thanks for the support shown to them by their family, friends and legal representatives.
"It is to be hoped now that much needed legislation in relation to this whole difficult area of surrogacy will be brought in and that children born by way of surrogacy arrangements will have their rights enshrined in such legislation."
Ms Campbell said the judgment in effect means that the genetic mother will be legally recognised as the birth mother by the registrar.