Bolshoi dancer Dmitrichenko held over Russia acid attack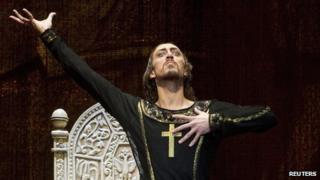 A Bolshoi Ballet soloist has been detained by police, suspected of ordering an acid attack on the company's artistic director.
Dancer Pavel Dmitrichenko is being held along with Yuri Zarutsky, who is suspected of carrying out the attack, Russia's interior ministry says.
Sergei Filin's eyesight was badly damaged when a masked attacker threw sulphuric acid in his face in January.
A third person, suspected of being the attacker's driver, is also being held.
He has been named as Andrei Lipatov.
It is not clear whether Mr Zarutsky or Mr Lipatov have any connection to the Bolshoi.
Infighting
Mr Dmitrichenko's flat was searched by Moscow police on Tuesday before he was confirmed as being detained.
The dancer, who has been with the troupe since 2002, has been performing the lead role in Sergei Prokofiev's Ivan The Terrible.
A spokeswoman for the Bolshoi Theatre, speaking before Mr Dmitrichenko was detained, said the company was hopeful that the crime would be solved.
Katerina Novikova said she did not know of any dispute between the dancer and Mr Filin, Reuters reports.
The mid-January attack shocked the arts world. It came after a period of infighting at the Bolshoi, one of Russia's most prestigious ballet companies.
Mr Filin was released from hospital in Moscow last month for follow-up treatment in Germany. He will have further plastic surgery and a lengthy convalescence.
The 42-year-old was badly burned during the attack, which happened in the street as he returned to his home in Moscow late at night.
It appears the assailant called out to the artistic director by name, then splashed him before fleeing from the scene.
A security camera apparently captured grainy footage of the event.
The artistic director said later he was certain who was behind the attack, but would only speak after an announcement by investigators.
He argued the aim of the attack had been to remove him from his post, adding that he had long been the target of threats.
Police have questioned several Bolshoi employees as potential witnesses.
They are treating the attack as a premeditated act of grievous bodily harm, motivated by Mr Filin's professional activities.
German doctors think they can restore some of Mr Filin's sight, the BBC's Daniel Sandford reports from Moscow.
A spokeswoman for the Bolshoi said they hoped he would return to the company for their trip to London this summer, our correspondent adds.