Sergei Magnitsky: Dead Russian lawyer trial to proceed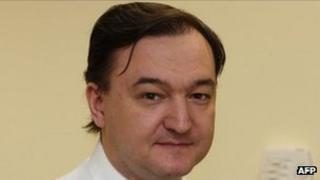 A judge in Moscow has ruled that the trial of the dead lawyer Sergei Magnitsky should go ahead next week, despite last-minute efforts to stop it.
Mr Magnitsky died in prison in 2009.
An investment fund auditor, he said he had uncovered a $230m (£150m) tax fraud involving Russian government officials.
The case has strained relations between Russia and the US. Amnesty International said the trial would "open a whole new chapter in Russia's worsening human rights record".
His family and lawyers refused to attend the pre-trial hearing on Monday, saying the case was politically motivated.
Also to be tried in absentia is Bill Browder, the head of Hermitage Capital Management, which employed Mr Magnitsky.
He was barred from Russia in 2006 and is in Britain.
'Cowards'
The two men were represented on Monday by lawyers appointed by the state, which neither they nor their families took any part in choosing, says the BBC's Daniel Sandford from the court in Moscow.
Mr Magnitsky's mother, Natalya Magnitskaya, told the BBC she was proud of her son's achievements and had nothing but contempt for the prosecution team.
"I despise these people. They have got no heart. They are some kind of robots. They don't want to hear the truth and I think they are cowards who just do what they are told to do," she said.
Mr Magnitsky's appointed lawyer appealed to the judge to send the case back to Russian prosecutors, but the request was refused.
The case is believed to be the first time in Soviet or Russian history that a defendant will have been tried posthumously.
Mr Magnitsky was arrested after some of the officials, whom he had accused of fraud, had him arrested, accused of the same offence.
He was in detention for a year and had pancreatitis, but an investigation by Russia's presidential council on human rights concluded that he had been severely beaten and denied medical treatment.
In December, a Moscow court acquitted a prison doctor accused of negligence over Mr Magnitsky's death.
His death led to a diplomatic dispute between Russia and the United States.
Last year the US passed the Magnitsky Act, which blacklists Russian officials accused of human rights violations.
In response, Russian President Vladimir Putin signed a Russian law barring Americans from adopting Russian orphans.