Italian media see instability following poll deadlock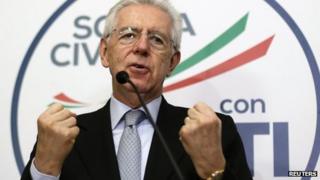 Italian commentators and analysts see the country heading for a period of instability in the wake of the inconclusive general election result.
With a hung parliament looming, many headlines use the word "ungovernable" to describe the outcome. They also view with awe the "tsunami" of popular support and votes for the anti-establishment Five Star Movement.
A pro-Berlusconi daily says the former premier pulled off a "miracle" comeback for the centre-right, while a leading financial daily says voters have rejected Mario Monti's austerity "medicine".
Headline in Rome's Il Messaggero
"The winner is ungovernability"
Headline in Rome's La Repubblica
"Grillo's boom, Italy ungovernable"
Massimo Giannini in Rome's La Repubblica
"The tsunami has arrived... Beppe Grillo's gigantic and anomalous wave has swept over the Italian political system, and altered it forever. The Five Star 'non-party' has become the largest [single] party in the country."
Blog of Five Star Movement leader Beppe Grillo
"We will be an extraordinary force [in parliament] and we will do everything we said in our election campaign... We are the obstacle and against us they [the established parties] can no longer make it."
Massimo Franco in Milan's Corriere Della Sera
"Pier Luigi Bersani has lost politically, even having won a majority in the lower house. He was certain he would win, but he underestimated the Grillo shock wave and the aggressive resistance of Berlusconism... The spectre that wanted exorcising, that of instability, has materialised with an explosive and unexpected force."
Headline in Rome's Il Giornale
"Berlusconi miracle - the centre-right stops the left"
Alessandro Sallusti in Rome's Il Giornale
"Silvio Berlusconi has accomplished the miracle of not consigning this country to the left and of blocking the march of Grillo's sect."
Stefano Folli in financial daily Il Sole 24 Ore
"Maybe it was inevitable. Nobel Prize laureate Paul Krugman wrote that elections in Italy were a referendum on austerity, or on the economic rigour policies. And that is exactly what they were. And the referendum was lost by the 'rigourists' headed by [Mario] Monti, also because their medicine turned out to be too bitter for a public that could not wait any longer to scrub off more than a year of 'tears and blood' without a clear perspective of recovery."
Headline in Turin's La Stampa
"Grillo boom, hung parliament"
Giovanni Sabbatuci in Rome's Il Messaggero
"The result is one that causes a stir, and not just within the nation's borders. It draws a political picture of the country that is far removed from the one predicted by the pollsters and the pundits... and more seriously, it leaves us with a hung parliament and problematic issues of governability."
BBC Monitoring reports and analyses news from TV, radio, web and print media around the world. For more reports from BBC Monitoring, click here. You can follow BBC Monitoring on Twitter and Facebook.