Italy struggles with 'nightmare' election result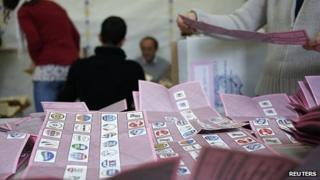 The words "Italy ungovernable" appear in large black letters on the front of one of the country's bigger newspapers.
The headline pretty much sums up the mood in the aftermath of this inconclusive election.
To govern Italy you need a working majority in both houses of parliament.
And it looks unlikely that any faction will be able to build one in the Senate.
It is very hard to see any stable government emerging.
"What we have seen materialise is what the international observers and markets consider the worst of nightmares," said a columnist in the Repubblica newspaper.
"To create a government in these conditions is impossible."
The centre-left Democratic Party has fallen badly short of the commanding position that seemed well within its grasp at the start of the campaign.
It was torpedoed by extraordinary performances from two of its rivals.
Former Prime Minister Silvio Berlusconi was almost written off as the campaigning began.
He had been forced from power not much more than a year earlier with Italy's finances in ruins around him.
He was mired in scandal and his party was in disarray. He seemed a spent force.
Seductive promises
But Mr Berlusconi presented himself as the anti-austerity candidate. He came talking not only of tax cuts, but of actually handing back some tax already paid.
With countless families here on their knees financially, Mr Berlusconi's promises were seductive.
And he is back now at the very centre of the Italian political mess.
But this election will always be remembered for the stunning performance of the new citizens' protest network - the Five Star Movement.
Led by its guiding star, the comedian-turned politician Beppe Grillo, it was born and bred on the internet.
But it emerged from the web and took its argument into town squares all over Italy.
The citizen activists oppose what they regard as the corrupted, self-serving traditional parties - the entire failed political establishment.
The movement has connected with huge numbers of Italians who have developed a contempt for the governing elite.
It won a quarter of the vote. It has become the largest single faction in parliament and a major political force in this country.
It is an astonishing result that will resonate across Europe.
But how will the Five Star Movement wield its newfound influence?
"There is a lot of hope in these young people - clean hands, clean faces - that Grillo is bringing into parliament," said journalist and film-maker Annalisa Piras.
"They are all non-politicians full of ideas, full of energy, so they could bring about change.
"But things could also go terribly wrong because they are very inexperienced and they don't have a proper, credible political programme."
So what might emerge from the debris of these results?
There is a lot of talk of the prospect of fresh elections soon in an attempt to arrive at a more conclusive outcome.
Another possibility is the formation of a very broad and unlikely set of partners in a coalition government that would re-work Italy's much-criticised election law.
And once better legislation was in place, a fresh vote would be called.
Is it possible that the poor showing of the centre-left Democratic Party might lead to ructions within it?
Its leader, Pier Luigi Bersani, ran a deeply uninspiring campaign.
He felt he had a healthy lead in the polls and he sat on it, playing safe.
The young mayor of Florence, Matteo Renzi, had challenged for the party leadership just months before.
Had he won he might well have run a very much more dynamic election campaign.
Might the Democratic Party now decide that it is time to turn to its young leader in waiting?