'Gay propaganda' bill proves divisive in Russia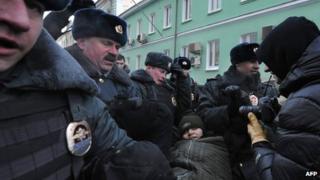 A bill banning "homosexual propaganda" has passed its first reading in the Russian parliament. It still has some way to go before it is made law, but is already proving divisive.
"I do not know any homosexuals personally, but I have seen them on TV and I saw them on 20 January in the square here in Voronezh," says Yevgeny Mazepin, a lawyer and leader of a campaign group called Special Battalion in Voronezh, a city of a million people some 500km south of the Russian capital, Moscow.
He devotes much of his professional and free time to supporting the bill, which has already passed its first reading in the lower house of parliament, by 338 votes to one.
On a freezing day in January 2013, Mr Mazepin helped arrange for a crowd of around 1,500 to turn out in Voronezh's Revolution Square to show their disdain for 14 demonstrators - some of them gay, some straight - who opposed the law.
"Homosexual propaganda aimed at minors will destroy traditional families," he says.
"Gay pride parades and public meetings are examples of deliberate and uncontrolled dissemination of information about homosexuality, creating an impression that perversion is the norm."
In Mr Mazepin's opinion, homosexuals "do not work... spend their days in idleness... [and] live off strange income from art shows".
Views like these are what gay men like Pavel Lebedev, 23 and originally from Voronezh, often have to contend with.
'Promoting violence'
Mr Lebedev organised the protest in Voronezh. Photographs taken on 20 January show him being kicked to the ground by a member of the crowd.
"I was there to explain that this law violates human rights and that thousands of people will lose their voice as a result of it," he says.
"The authorities are promoting violence. The law implies that some people are inferior and compels them to shut up and stay out of sight."
Mr Lebedev says he is not a natural leader and - slight, shy and haltingly spoken - he does not come across as one.
He says he always knew he was gay - but blocked it out: "I was depressed, I thought of suicide. I had no information.
"I remember, once, when we were watching a gay performer on TV and my mother said he was dirty and nasty, I knew I had to keep my feelings inside."
But Mr Lebedev says he does not think all of Russian society is homophobic.
"The only homophobia comes from lack of information," he argues.
"I used to hate myself - now I feel sorry for people who are still in the position I was.
"After I'd been beaten, I was afraid, shaking. I had tears in my eyes. But I cannot stay silent any longer."
Secret adoption
In today's Russia, Mr Lebedev has an increasing weight of public opinion to overturn.
A society which has comparatively little tradition of anti-gay discrimination (at least in the private sphere) is seeing a hardening of attitudes along what campaigners call "traditionalist" lines.
Leading politicians are happy to equate homosexuality and paedophilia in the media. Calls to protect the family are met with the enthusiastic approval of the Orthodox Church and theories that Western Europe is infecting Russia with alien liberal ideas appeal to patriotic thinkers.
Vassily (not his real name) feels keenly the danger public opinion poses to him. A gay man in his 40s, he faked a marriage and moved to an isolated village six years ago, in order to adopt and bring up a son.
Today, he lives with his male partner and their child, now 10 and the academic high-flyer of his local school. Vassily says the boy, along with everyone in his community, is unaware of the real nature of their domestic set-up. He says he does not want to tell him yet in case, in his innocence, he talks.
"We are used to keeping secrets," Vassily says in hushed tones, even though he is speaking in the privacy of his own kitchen.
"What happens between me and my partner is our private matter. No-one bothers us. But if they were to find out now, the child would be taken away from us immediately, without a thought.
"And we would have to get out of this village straight away."
'Psychological illness'
As a self-proclaimed protector of public morality, Yevgeny Mazepin might be the first to disapprove of Vassily's lifestyle.
"At that demonstration, we carried placards saying 'Mama-Papa good, Papa-Papa bad'," he says.
"Concerned citizens of Voronezh tried to stop others from parading their sin and their deep psychological illness."
He will probably not be amused to learn that his efforts to stop the Voronezh demonstration were unwittingly the start of one local gay relationship.
Dima and Yaroslav saw each other's addresses and photos online as a result of a campaign to name and shame gay activists. They liked what they saw.
They now live together - to the horror of some of their neighbours - in the small town of Gryazi. Eventually, they say, they plan to marry.
"I am sure, like any right-thinking person, the anti-gay league will be happy for us," Dima suggests, with a touch of irony.
Paul Henley's reports are featured on BBC World Service news programmes this week.