Spanish royal Inaki Urdangarin faces corruption probe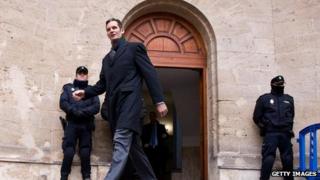 The King of Spain's son-in-law has been questioned by a judge in Mallorca over a growing corruption scandal that has embarrassed the royal family.
Inaki Urdangarin, the Duke of Palma, is suspected of misusing millions of euros in public funds that were given to a charitable foundation he ran.
The duke has denied wrongdoing and has not been charged with any crime. It is the second time he has been questioned.
A crowd of protesters jeered as he arrived at the court in Palma.
The session was held behind closed doors, but Spanish media reports say the duke read a statement distancing King Juan Carlos from the corruption scandal.
The royal house "had no opinion, did not advise and did not authorise" any of his activities at the non-profit Noos institute, he is reported to have told the investigating judge and prosecutors.
"On the contrary, when the accusations arose, the palace recommended I stop any activity not considered appropriate to my institutional status, which I did," he is reported to have added.
Suspended
Inaki Urdangarin, 45, a former Olympic handball player, is married to King Juan Carlos's second child, the Infanta Cristina.
He was suspended from official royal engagements in December last year.
The duke and his former business partner Diego Torres are suspected of siphoning off money given by regional governments to the Noos Institute to organise sporting events.
It is alleged that some of the money ended up in companies controlled by the duke and in offshore bank accounts.
The events allegedly happened between 2004 and 2006, when the duke stepped down as head of the institute.
Mr Torres - who was questioned by the judge last week - has also denied any wrongdoing.
Emails
Anti-corruption campaigners have urged the judge to formally name Princess Cristina as a suspect, alleging that she may also have been involved.
The Spanish monarchy has tried to distance itself from the scandal.
But emails published by Spanish newspapers last week appear to show that King Juan Carlos took a close interest in his son-in-law's business affairs.
Support for the royal family has diminished in recent years, amid criticism that is out of touch with ordinary Spaniards as they struggle with a severe economic crisis.
Last week Pere Navarro of the Catalan Socialist Party became the first prominent politician to call on King Juan Carlos to abdicate in favour of his son, Crown Prince Felipe.
Juan Carlos is credited with guiding Spain's transition to democracy after the death of dictator Francisco Franco in 1975.