Spain moves to give bullfighting special cultural status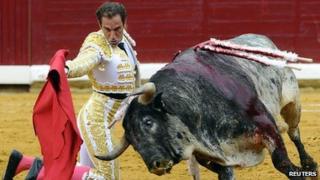 Spanish MPs have voted to consider giving bullfighting special cultural status - a move that could overturn regional bans on the age-old tradition.
In a 180-40 vote, the parliament backed a petition signed by 590,000 people.
If the idea becomes law, it may roll back the ban in Spain's regions of Catalonia and the Canary Islands.
It may also provide tax breaks for promoters of bullfighting (corrida). Opponents describe the tradition of killing animals as barbaric.
'Barbaric' tradition
On Tuesday, the popular petition was easily backed in parliament, where the governing conservative Popular Party (PP) has a majority.
Under the proposal, bullfighting would be promoted by the authorities who would also push the UN to recognise it as part of Spain's cultural heritage.
A parliamentary commission is now expected to fine-tune proposed legislation and the vote could take place later this year.
The parliamentary vote is an attempt by pro-bullfighting conservatives to keep this controversial tradition alive, the BBC's Tom Burridge reports.
About 2,000 fights are still held every year in Spain, but the numbers are falling.
Bullfighting was banned last year in Catalonia, in the north-east, with supporters of the measure describing the blood-soaked pageants as barbaric.
The ban in Catalonia was also seen by many Spaniards as an attempt by Catalan nationalists to distinguish the region from the rest of Spain and its traditions.
Bullfighting was also banned in the Canary Islands in 1991.