Dodds: Horsemeat scandal one of "mammoth proportions"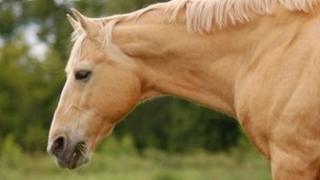 DUP MEP Diane Dodds has described the horsemeat scandal as one of "mammoth proportions".
She was speaking before attending a meeting of EU officials from countries affected in Brussels on Wednesday.
It was called by the Republic of Ireland which currently holds the EU presidency.
Agriculture Minister Michelle O'Neill also attended a series of meetings in Northern Ireland to discuss the controversy.
The minister said 2012 had been an "exceptionally difficult year" for farmers and the horsemeat controversy was "therefore a very unwelcome development".
"It is essential that the major supermarkets take this into consideration when dealing with the fallout from this serious issue for the industry," she said.
Safety
Ms O'Neill also stressed the quality of the beef from Northern Ireland.
"The traceability controls in our agri-food supply chains are robust and well integrated which emphasises the benefits to consumers and businesses of purchasing local produce, not only due to the environmental, economic and social benefits but also the integrity and safety of our produce.
"This provides confidence and reassurance to concerned consumers who want to know where their food comes from and what it contains."
Ms O'Neill also met the Foods Standards Agency (FSA) to get an update on their investigation.
Earlier, Irish Agriculture Minister Simon Coveney said the aim of the meeting in Brussels was to discuss whatever steps were necessary at EU level to comprehensively address the matter.
Mrs Dodds said consumers had been badly let down.
"Those of us who go to our local supermarkets, who have the trust that what is there is exactly what it says on the label, have been grossly betrayed by this type of scandal," she said.
"I think it implicates the retail and processing sector equally and they both have to bear the blame for what is actually happening."
She said she did not want to scandal to "compromise the good name of that product and the safety of that product".
The horsemeat scandal began last month when Irish authorities discovered horsemeat in some burgers stocked by a number of UK supermarket chains.