World press gripped by Pope Benedict XVI resignation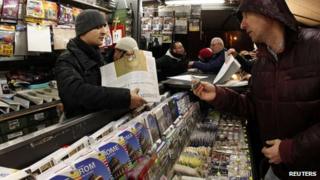 Pope Benedict's shock resignation has reverberated through the world's press, from the Church's European heartland to Latin America, Asia and Africa - the new growth areas for Roman Catholicism.
Many are asking whether this marks a watershed for a Church beset by problems.
Europe
Italy's Corriere della Sera
Surprising even his close associates, Benedict XVI has decided to abdicate the seat of St Peter and by doing so, he marked a turning point of great modernity for the Church.
Italy's La Stampa
The question that arises is what it will be like to have two living popes. The answer is there will only be one Pope… Ratzinger's presence in the Church does not come to an end. He will continue being a presence there, and this will be no less significant: a presence of intercession between God and man.
Spain's La Razon
The fact that in only seven years he visited us on as many as three occasions reveals the Holy Father's predilection for a nation of deep Catholic roots like Spain… To sum up, Ratzinger has been a great pope... and especially close to Spain, which has responded with respect, affection and admiration.
Heribert Prantl in Germany's Sueddeutsche Zeitung
It's only with his resignation that Benedict has broken the chains of tradition, otherwise he didn't touch these chains, he even strengthened them at times... The Church has seldom been so in need of reform as it is at the end of Benedict's papacy.
Bishop Tadeusz Pieronek writing in Poland's Gazeta Wyborcza
The Pope had to wrestle with issues much more serious than paedophilia. He prompted people to live in accordance with God's commandments. This is much more important than tackling the issue of paedophilia, which has always existed and will always be there. Nothing can stop a man abusing some opportunities which freedom gives him and to which his passions lead him. You cannot change the world.
Prof Wojcech Goralski in Poland's Rzeczpospolita
Canon 332 Part 2 mentions the possibility of a pope's resignation, but it is silent about his status afterwards. No doubt, he will continue as a bishop because he was ordained as a bishop and this had nothing to do with his duties… It is rather difficult to give him some new duties dealing with his ordination as a bishop. It could be very inappropriate. What sort of duties can the former pope have? There is nothing to prevent him settling some issue or advising the new pope, if the latter asks him to.
Ireland's Irish Times
For some, Benedict will always seem to have been the personification of a misogynist Church that was backward on issues such as women priests, homosexuality and clerical celibacy. For others, he will be seen as a modest, frail and old intellectual full of the best intentions. Both factions would probably agree that he failed to realise many of those best intentions.
French daily Le Figaro
Benedict XVI was driven by inner intuition, certainty and even seeming indifference to the media uproar. The unexpected announcement of his resignation also stems from his strength of character. It demonstrates another trait of the man, who was both mocked and caricatured (the "Panzer Cardinal"), to which we must pay tribute: humility.
Marinella Perro in Swiss daily Tribune de Geneve
It is thunder from a clear sky and a shock to many Catholics… This decision radically changes the organisation of the Church. For believers and for the Church system, this a revolution.
Africa
Kenya's Daily Nation - commentary by Giuseppe Liguori
Has an African a real chance to become Pope? Although it is very difficult to forecast what will happen in the Conclave, in my opinion only two Africans have a chance to be elected. The first one is Cardinal Peter Kodwo Appiah Turkson... The second person is Cardinal Francis Arinze... Africa has already had three popes - all from northern Africa and elected centuries ago - but the election of an African pope should not be a surprise.
Bruce Gorton in Times Live, website of South Africa's Sunday Times
Six reasons I'm happy the Pope's resigned… The Pope would rather gay people got murdered than married. When France wanted the UN to pass a resolution requiring member states to not sentence gay people to death in 2008, his representative to the UN declared that such a move would "add new categories of those protected from discrimination" and lead to gay marriage being legalised.
Uganda's Daily Monitor - readers' comments
If a spiritual leader like the Pope can do so, then our corrupt leaders please...... when will M7 [Ugandan President Museveni] resign???
There is a decline of the Catholic Church in Europe, but this was outmatched by a more robust growth in Africa, Latin America and Asia, thus leaving the Catholic Church growing rather than declining.
Middle East
Akif Emre in Turkish daily Yeni Safak
Benedict will make history as the first pope who resigned in modern times. Among the 265 popes up until today, a similar resignation was experienced in 1415. Leaving aside the theological side of the issue, we still do not know what lies beneath his resignation and maybe we will never learn it completely. However Benedict will be remembered for his admonishments that received many reactions and caused him to be treated as "an anti-Islamic Pope", particularly because of his statements on Islam and the Muslims.
Noah Klieger in Israel's Yediot Aharonot
It is customary to say: "Better late than never", but in the case of the quitting Pope it must be added that it is a pity that he was chosen at all to be God's deputy on Earth… The strict German was a fanatical conservative, without any hint of liberalism, including in his attitude to other religions, not to mention heavier issues like homosexuality… The German Pope did not have any positive attitude to Judaism - he even crudely trampled on our feelings, first by bringing back British Bishop Richard Williamson to the Church, a declared, active Holocaust denier, and later with his decision to canonise Pius XII, who did not voice a word of protest at the annihilation of the Jews…
Asia
Indian daily The Hindu
Latin American church officials as well as cardinals from Africa are pushing hard for a non-European Pope since it is in Africa and the emerging economies that Catholicism is growing the fastest. The odds appear to be stacked in Italy's favour - Europe will be reluctant to let go of its hold over the papal office - and after two non-Italian Popes, many in the Vatican feel the next Bishop of Rome should in fact come from Rome or somewhere close by.
Latin America
Jose Maria Poirier Lalanne in Argentina's Clarin
For the Church of Rome, this pope's resignation marks a watershed. With it perhaps new possibilities may open up, which could well be healthy and not a source of conflict, as happens in the Anglican Church… It could signify a path towards ecumenical closeness and modernisation of the government of the Church, which needs to give less weight and importance to the Roman Curia and greater prominence to the local churches.
Mexico's La Jornada - commentary by Bernardo Barranco V
Benedict XVI has now, with his sudden resignation, opened the way for an unexpected process, a period of discernment about the great projects for a vulnerable and ill-disposed Church... There is an opportunity for a new process of modernisation, if the cardinals are more sensitive and humble in the face of the need to achieve a new cultural synthesis of Catholicism and the demands of contemporary societies. Will this leap take place? We doubt it.
BBC Monitoring reports and analyses news from TV, radio, web and print media around the world. For more reports from BBC Monitoring, click here. You can follow BBC Monitoring on Twitter and Facebook.