Pope Benedict XVI on the road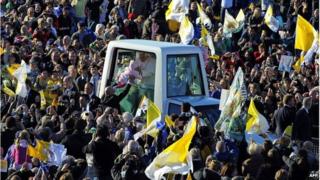 Pope Benedict XVI continued the globetrotting style of his predecessor John Paul II, travelling far and wide to reach out to the world's Catholic population.
In his eight years as Pope he visited more than 20 countries as he sought to revive the Church and encourage the faithful. These are some of the highlights.
Poland, May 2006
One of Benedict's first trips as Pope was to Poland, the strongly Catholic homeland of his predecessor, John Paul II.
As a former member of the Hitler Youth, he visited the Auschwitz Death Camp to atone for Nazi crimes.
Visibly moved, he called himself "a son of the German people," and asked: "Where was God in those days?"
Southern Germany, September 2006
The Pope was always sure of a warm reception in his native Bavaria, in southern Germany.
In 2006 huge crowds joined him for an outdoor mass in Regensberg, delighted that one of their own had risen to lead the Church.
He visited his brother Georg - also a priest - and went to the grave of his parents and his childhood home.
Benedict made several trips to Germany as part of his campaign to revive Europe's Christian heritage in the face of growing secularisation.
Brazil, May 2007
A visit to the country with the world's largest Catholic population is a must for any modern Pope, particularly as Brazil's Catholic church is losing ground to evangelical groups.
Massive crowds turned out in Sao Paulo to see him canonise Brazil's first native-born saint - Brother Antonio Galvao.
But he offended indigenous groups by saying their ancestors had been "silently longing" for conversion to Christianity before the European conquest of the Americas.
Israel and the Palestinian Territories, 2009
In a 2009 pilgrimage to the Holy Land Pope Benedict spoke out in support of peace and against anti-Semitism and Holocaust-denial.
But his support for an "independent, sovereign Palestinian homeland" angered some Israelis.
UK, September 2010
In his trip to Britain the Pope spoke out against "excessive secularisation" and stressed his desire for further reconciliation with the Anglican Church.
He also apologised for the "unspeakable crimes" of child sexubritainal abuse in the Church - a dominant theme of his Papacy and of visits to other countries including the US.
Cuba, March 2012
One of Benedict's last trips was to Cuba, where the Catholic Church plays an important role in mediating between the Communist authorities and dissident groups.
He spoke out in favour of basic freedoms, but also criticised the 50-year-old US trade embargo.