Pope Benedict XVI resigns: Reaction in quotes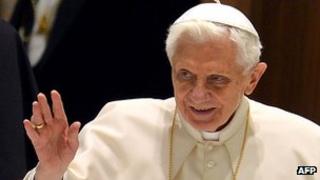 The unexpected announcement that Pope Benedict XVI is to resign at the end of this month has shocked Catholics and the wider world.
World leaders and leading figures from the Catholic Church and other religious communities have rushed to pay tribute to the 85-year-old.
As well as hailing his achievements, many have praised his decision to stand down because of his increasing frailty.
Here's some reaction from around the world.
Italian Prime Minister Mario Monti
"I deeply respect the decision of Pope Benedict XVI, immense and unexpected as it is.
"I am sure that this decision has been inspired by the will to serve the Church to the end and to make sure that it will be guided steadfastly in the future as well.
"I will treasure the touching memory of the personal and close dialogue with which the Holy Father has consented to accompany my commitment with the government."
German Chancellor Angela Merkel
"If the Pope himself, after thorough reflection, has come to the conclusion that he does not have the strength any more to carry out his duties, then this has my utmost respect.
"He is and remains one of the most significant religious thinkers of our time."
US President Barack Obama
"On behalf of Americans everywhere, Michelle and I wish to extend our appreciation and prayers to His Holiness Pope Benedict XVI.
"Michelle and I warmly remember our meeting with the Holy Father in 2009, and I have appreciated our work together over these last four years.
"The Church plays a critical role in the United States and the world, and I wish the best to those who will soon gather to choose His Holiness Pope Benedict XVI's successor."
UK Prime Minister David Cameron
"Pope Benedict has worked tirelessly to strengthen Britain's relations with the Holy See.
"His visit to Britain in 2010 is remembered with great respect and affection.
"He will be missed as a spiritual leader to millions."
Philippines presidential spokesman Edwin Lacierda
"Pope Benedict's decision, historic as it is, is in keeping with humility and pastoral approach he has placed at the core of his service as Pope.
"May he find respite from his physical challenges, and peace and contentment in the seclusion of retirement."
Vatican spokesman Federico Lombardi
"You will no doubt have many questions but I believe we will need a few days to organise ourselves because this announcement has taken us all by surprise."
Archbishop of Westminster Vincent Nichols
"Pope Benedict's announcement today has shocked and surprised everyone.
"Yet, on reflection, I am sure that many will recognise it to be a decision of great courage and characteristic clarity of mind and action.
"I salute his courage and his decision."
Archbishop of New York Timothy Dolan (President of the US Conference of Catholic Bishops)
"The Holy Father brought the tender heart of a pastor, the incisive mind of a scholar and the confidence of a soul united with His God in all he did.
"His resignation is but another sign of his great care for the Church. We are sad that he will be resigning but grateful for his eight years of selfless leadership as successor of St Peter."
Cardinal Peter Turkson of Ghana (being named as a possible successor)
"People are free to speculate and people are free to make their own judgements, and I suppose if it comes to looking for leadership then I think the thing we should be doing is rather pray to God, the leader and owner of this Church, to give a leader who is fit to lead this group at this point in time and in history. So for me I think this is time for a lot more prayer than speculation."
Scottish Cardinal Keith O'Brien
"Like many people throughout the world, I was shocked and saddened to hear of the decision by Pope Benedict XVI to resign.
"I know that his decision will have been considered most carefully and that it has come after much prayer and reflection."
Archbishop of Pretoria William Slattery (Spokesman of the Southern African Catholic Bishops' Conference)
"This decision evokes in us a certain amount of sadness, but we accept that this decision, not taken lightly, is best for both Pope Benedict and the Church.
"We wish to express our deep admiration for both his ministry and for his courage in facing the limitations of his age.
"We wish to assure Pope Benedict of our prayers and will commit our prayers for the Church as we discern the will of the Holy Spirit for the continuity of leadership of the Church."
Austin Ivereigh from Catholic Voices media organisation
"He's set a precedent by what he's done today. I think it'll be very hard for future Popes ever to say, as John Paul II did: "I must remain until the very end."
"I think he's seen that modern medicine enables long papacies and I think he thinks it's in the interests of the Church that a Pope should not serve, should not be in office, when he is very frail. I think in itself that's quite a remarkable thing."
Archbishop of Canterbury Justin Welby
"It was with a heavy heart but complete understanding that we learned this morning of Pope Benedict's declaration of his decision to lay down the burden of ministry as Bishop of Rome, an office which he has held with great dignity, insight and courage.
"In his visit to the UK, Pope Benedict showed us all something of what the vocation of the See of Rome can mean in practice - a witness to the universal scope of the gospel and a messenger of hope at a time when Christian faith is being called into question.
Israeli Chief Rabbi Yona Metzger's spokesman
"I think he deserves a lot of credit for advancing inter-religious links the world over between Judaism, Christianity and Islam.
"During his period there were the best relations ever between the Church and the chief rabbinate and we hope that this trend will continue."
Russian Orthodox Church spokesman Dimitriy Sizonenko
"There are no grounds to expect that there will be any drastic changes in the Vatican's policies.
"In its relations with Orthodox Churches, the Roman Catholic Church has always ensured continuity between popes."
Minister-President of Bavaria Horst Seehofer
"With his charisma and his tireless work for the good of the Church, the Pope from Bavaria has inspired people all over the world."
Christine Boutin of France's Christian Democratic Party
"This is shocking, very shocking, unheard of for the Catholics and certainly for the entire world."
Ezio Mauro, editor-in-chief of Italian newspaper La Repubblica
"It is unprecedented in the modern era for a Pope to resign because of physical frailty, and for a new Pope to be chosen and take office while his predecessor remains alive."