Thousands protest over bank debt burden in Republic of Ireland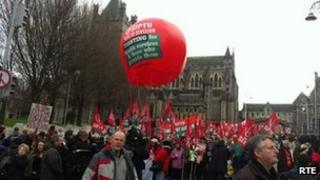 Thousands of people have taken part in demonstrations across the Republic of Ireland in protest against bank debts being passed on to Irish taxpayers.
The protests took place in Dublin, Cork, Galway, Limerick, Waterford and Sligo. They were organised by the Irish Congress of Trade Unions (ICTU).
The ICTU claimed more than 100,000 took part, with over 60,000 in Dublin alone.
However, police estimated that 25,000 took to the streets of Dublin. They did not have figures for the other cities.
Controversial bailout
The ICTU is campaigning in an attempt to break the link between private bank debt and national debt.
Its general secretary, David Begg, addressed the Dublin rally in Merrion Square on Saturday.
He told protesters that bailing out the banks had cost each Irish taxpayer thousands of euros.
"So far, every Irish person has paid 9,000 euros (£7,600) while the average across the EU is 192 euros (£162). That is neither fair nor just," he said.
The ICTU rally was organised two days after the Irish government struck a new deal on its national debts with the European Central Bank (ECB).
In a surprise move on Wednesday, the government liquidated the former Anglo Irish Bank, a high-profile casualty of the Irish property crash.
Control of Anglo had already passed to the Irish Bank Resolution Corporation (IBRC), but the bailout deal was still costing taxpayers over 3bn euros a year in repayments.
The liquidation, which was cleared by the ECB on Thursday, has allowed the Republic to defer the bill for its most controversial bank bailout by decades.
Unfair
But Mr Begg told protesters that the latest developments would not remove the debt burden from Irish taxpayers.
"If you read some papers yesterday you would think we had achieved economic salvation and our problems were over. Nothing could be further from the truth. And we have over 100,000 thousand people on the streets of Ireland today who feel the same way.
"New deal, same problem, 1.8 million people cannot possibly pay off a bank debt burden of 64 billion euros (£54bn) - especially a debt they played no part in running up. There is nothing fair about this deal," Mr Begg added.