French MP played Scrabble in debate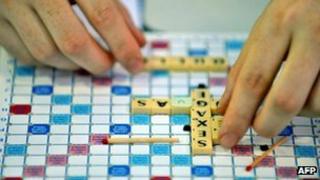 A French MP has sparked a debate about the use of electronic devices in parliamentary sessions after being photographed playing online Scrabble on his tablet.
The photos were taken during the debate on gay marriage and rapidly distributed via social networking sites.
The wrong MP was initially identified, causing a storm of comments on Twitter.
Some MPs have questioned whether their colleagues should be allowed to access Twitter while in session.
The MP photographed, Socialist deputy Thomas Thevenoud, admitted that he had been playing the word game in the chamber.
"I confirm... that we were trying to keep our brain cells working at three in the morning," he is quoted as saying by French newspaper Le Parisien.
"When we manage to get 102 points at three in the morning, I wouldn't say we are proud of our achievements but it does reassure us somewhat," he added.
His colleague, MP Jerome Guedj, acknowledged in his blog that he used the frequent pauses during sessions to do other non-work activities, which he said included reading the newspaper, playing Scrabble, and phoning his plumber to get his old radiators repaired.
Mr Guedj suggested that the inefficiency of the French system was behind the uptake in online distractions.
"The English can vote on marriage for all in just two days while we take ten days over nothing," he added, denouncing the French system's "endless amendments" and "pointless discussions".