Pompeii restorer Annamaria Cavaco accused of fraud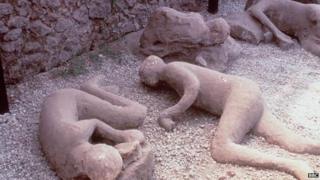 A former restorer of Pompeii is under house arrest on corruption charges, Italian police have said.
Five others, including the ex-special commissioner appointed to deal with the increasing degradation of the historic site, are also under investigation.
In 2008, the country declared a state of emergency at the site of the ancient Roman city buried by an eruption of the Vesuvius volcano in AD 79.
Annamaria Caccavo denies charges of corruption and fraud against her firm.
Ms Caccavo, whose Salerno-based firm carried out projects within the internal area of Pompeii at a total cost of some eight million euros (£6.9m), is currently under house arrest.
Her firm, Caccavo, has been blocked from taking public contracts and has had assets of some 810,000 euros (£702,000) seized.
Police investigators also say that the former special commissioner, nominated to oversee efforts to restore the ruins, Marcello Fiori as well as the then director of restoration, Luigi D'Amora, awarded irregular contracts to Ms Caccavo's firm, paying inflated prices.
They are also accused of breaking the terms of the state of emergency by overspending on various restoration projects and agreeing to non-essential work on the site, which draws some 2.5 million tourists each year.