Four suspected Islamist militants arrested in France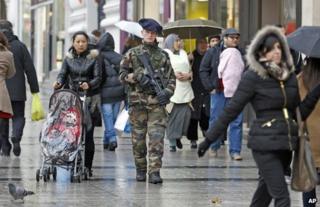 French anti-terror police have arrested four suspects in the Paris region in a crackdown on Islamist militant networks operating in west Africa.
Three of those detained are Franco-Congolese and the fourth is from Mali, a police source told France's AFP news agency.
Interior Minister Manuel Valls warned of jihadist networks planning attacks in France or seeking recruits there.
The French military is engaged against Islamist militants in Mali.
Few details of the arrests were given but Mr Valls said they were connected to the arrest of "an individual a few months ago on the border between Mali and Niger".
A police source quoted by reporters identified the suspect as a Franco-Congolese man who was arrested in Niamey, the capital of Niger, while attempting to purchase a four-wheel drive vehicle with a false driver's licence.
He was reportedly attempting to reach Timbuktu in Mali, to join the al-Qaeda in the Islamic Maghreb group.
"We have to continue dismantling these networks that want to either commit attacks on our soil or take individuals overseas to carry out jihad," Mr Valls said.
A "handful" of French nationals had already joined groups linked to al-Qaeda but there was "no direct threat", he added.
"There are threats on the internet, on social networks, calling on people to wage war, to attack French interests," Mr Valls said.
France increased its domestic terror threat level after French forces went into action in Mali on 11 January to push back militants who had captured Timbuktu and other parts of northern Mali.