Q&A: Italian election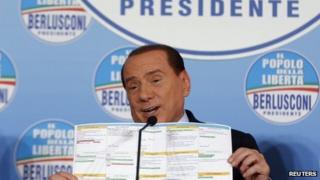 Two months after an inconclusive election, Italy finally appears to be getting a government.
President Giorgio Napolitano has asked Enrico Letta, of the centre-left Democratic Party, to become prime minister.
It follows a vote on 24-25 February that, according to many observers, left the country "ungovernable".
Three parties received almost equal shares of the vote, and had been unable to agree on a coalition.
The centre-left has control of the lower house, the Chamber of Deputies, but not the Senate.
A new coalition was agreed after Mr Letta met Mr Napolitano, with the president saying that the government would have the support of both houses.
Key appointments include Fabrizio Saccomanni as head of the powerful economy ministry and former European Commissioner Emma Bonino as foreign minister.
What was the outcome of the election?
The centre-left coalition headed by Pier Luigi Bersani won 29.5% of the vote for the lower house, compared with 29.2% for Silvio Berlusconi's centre-right bloc. That was much tighter than the 5-6% gap predicted by opinion polls, and represented a major disappointment for Mr Bersani, who at one stage led by 10%. Mr Berlusconi clawed back the difference with a tireless round of TV and radio appearances, and promises of tax cuts.
Meanwhile, the comedian-turned-politician Beppe Grillo astonished the country with the strength of his vote. His Five Star Movement took 25.5% in the Chamber of Deputies - making it the largest single party - and 23.8% in the Senate. He eschewed TV appearances and did all his campaigning online, or in town squares, where he drew large crowds. But he ruled out making alliances with other parties. He caustically dismissed Italy's traditional political class as "walking dead" who needed to be voted out and replaced by younger candidates untainted by claims of scandal and corruption.
The centre-left's slim victory gave it an automatic 55% of seats in the Chamber.
However, no government can rule effectively without control of the Senate. In the Senate, Mr Bersani also came first, taking 31.6% compared with 30.7% for the centre right. But there is no automatic majority.
Many analysts thought that in the absence of a majority, Mr Bersani could team up with centrist leader and former Prime Minister Mario Monti. But the latter's coalition won only 10.6% in the Chamber and 9.1% in the Senate - much less than predicted, and not enough to make up a majority for Mr Bersani.
Numerically, a grand coalition between Mr Bersani and Mr Berlusconi was a possibility - but the antipathy between left and right is so strong in Italy it prevented the men making a deal.
Mr Bersani eventually became sidelined after his failure to secure either a coalition or a deal on a new president, and resigned his leadership of the Democratic Party. Enrico Letta then emerged as a potential candidate to lead a left-right coalition.
What's at stake?
The election and its aftermath have been watched closely in Europe and beyond. The eurozone's third-biggest economy is deep in recession, with unemployment at a record high, particularly among the young.
It had been feared that political deadlock, and a vote against austerity and reforms, could spook the markets and Italy could drag Europe back into a new, dangerous phase in its debt crisis. However, so far that market shock has not materialised.
What about the president?
In April, attempts by parliament to elect a new president foundered on the same divisions that were blocking a coalition agreement. After several candidates were rejected, the incumbent, 87-year-old President Giorgio Napolitano, was persuaded to abandon his retirement and stand again.
At his swearing-in, he berated the politicians for failing to forge a government and for their "unforgivable" inability to enact reforms.
What are the various political alliances involved?
Mr Bersani, a former communist and ex-minister, led a coalition dominated by his Democratic Party (Partito Democratico or PD), in alliance with the more left-wing Left, Ecology, Freedom party (Sinistra Ecologia Liberta - SEL)
Mr Berlusconi leads an alliance between his People of Freedom (Il Popolo Della Liberta or PdL) and the more right-wing Northern League (Lega Nord). The scandal-ridden and flamboyant Mr Berlusconi has been prime minister three times previously. The Northern League is led by Roberto Maroni. Mr Berlusconi has suggested he will not be a minister but negotiated for PdL Secretary Angelino Alfano to become deputy PM and interior minister
Mr Grillo's Five Star Movement (Movimento 5 Stelle or M5S), an anti-establishment citizens' movement founded by the outspoken satirist and blogger. Mr Grillo was not running for election himself. He has refused a coalition with the two bigger blocs
Mr Monti's centrist coalition, which includes his own list, Civic Choice with Monti for Italy, the Christian Democrats and a smaller centre-right party, Future and Freedom for Italy.
What kind of electoral system does Italy have?
Italy is a republic with a president and a bicameral parliament. The Chamber of Deputies, the lower house, has 630 elected members. The Senate - the upper house - has 315 elected members plus, currently, four appointed life senators. Members of both houses are elected for a five-year term. All elected seats in both houses were up for election. The electoral system is based on proportional representation and party lists, with a series of thresholds to encourage parties to form coalitions.
The Senate is unusual among European upper houses in that it has almost the same power as the lower chamber. Any law, other than the budget, can be initiated in either house, and must be approved in the same form by both houses. In addition, the government must have the consent of both houses in order to govern.
In the lower house, the system guarantees whatever grouping emerges ahead at the national level at least 340 of the 630 seats. In the Senate, the winning majority is decided region by region. The winning coalition in each of the 20 regions is guaranteed 55% of that region's seats.
Italy's current electoral law is both cumbersome and controversial, so much so that it has been nicknamed the "porcellum" (pigsty). Although there is widespread agreement that the system needs to be changed, politicians have been unable to agree on what should replace it.
BBC Monitoring reports and analyses news from TV, radio, web and print media around the world. For more reports from BBC Monitoring, click here. You can follow BBC Monitoring on Twitter and Facebook.