Silvio Berlusconi makes Italy property tax pledge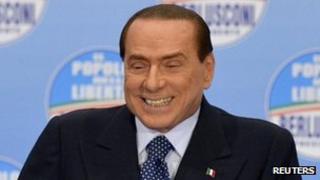 Former Italian PM Silvio Berlusconi has promised to abolish an unpopular local property tax if his party wins the 24-25 February elections - and to refund last year's payments in cash.
The centre-right electoral coalition has been trailing in opinion polls - but the gap has recently narrowed.
Mr Berlusconi has said he will serve as economy minister if his party wins.
The media tycoon stepped down from a third term as prime minister in 2011 in the middle of the eurozone debt crisis.
At a rally in Milan on Sunday, Mr Berlusconi promised to abolish the local property tax introduced by the incumbent technocratic government that succeeded him - and to refund last year's taxes.
"This tax caused Italian families worry, anxiety, fear of the future," he told supporters of his People of Freedom party.
Gap narrowing
The media magnate is making a strong bid to return to power just over a year after he was forced to resign, says the BBC's David Willey in Rome.
With only three weeks to go before the polls, the formerly unthinkable - a return to power by the media magnate who has dominated Italian politics for the past two decades - has now become possible, political observers are saying.
Despite his clashes with Italian justice over corruption charges, and the fact that he is still on trial for allegedly paying an underage prostitute for sex, Mr Berlusconi is using his considerable political skills to appeal to an electorate which has seen a draconian increase in taxes by the technocrat administration led by Mario Monti during 2012, our correspondent says.
The result of the February election remains highly uncertain with more than a third of voters still undecided, according to opinion polls.
The tax refund promise could prove popular with voters facing rising unemployment and no immediate prospect of economic growth in Italy, adds our correspondent.
At the start of the election campaign, Mr Berlusconi trailed far behind his main centre-left opponent - Pierluigi Bersani, leader of the left-wing Democrats.
But over the past month he has narrowed the gap between himself and his main adversary to only five percentage points.