Senator Martin McAleese to resign from Seanad next week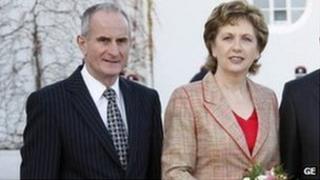 Independent Senator Martin McAleese has told the Irish Senate Speaker he will be resigning from the Seanad next week.
The husband of former President Mary McAleese was appointed as one of Irish Prime Minister (Taoiseach) Enda Kenny's nominees.
He has recently completed a report on the Magdalene Laundries, which is due to be published next Tuesday.
Sources in the Taoiseach's office paid tribute to his work on the issue and on bridge building in Northern Ireland.
Senator McAleese was at the centre of efforts to bring loyalist paramilitaries in from the margins of the peace process.
The Magadalene laundries were a network of Catholic-run workhouses that operated in Ireland from the 1920s to the mid-1990s.
Seanad Éireann is the upper house of the the Irish parliament.