Missing property tycoon found lost, ragged and scarred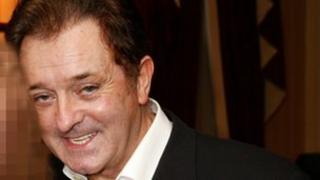 A missing Irish property developer has been found wandering, lost and emaciated on a country road, eight months after he disappeared.
Kevin McGeever, 68, is recovering in hospital in Mullingar, County Westmeath.
He was found barefoot, ragged and with an abusive word carved into his head.
He was dishevelled with a long beard and very long fingernails and had lost a lot of weight. In the Irish boom years, he sold luxury homes in Dubai.
He was reported missing to police in Galway in June last year.
Mr McGeever was found by a couple on a country road near Ballinamore in County Leitrim on Tuesday night.
Sinn Féin Councillor Martin Kenny from Ballinamore, who knows the couple who found the man, said they had been driving home from Enniskillen when they came upon him on the road.
"They noticed something on the road and, at first, they thought it was a traffic cone, but he was wearing red trousers," he said.
"He looked dishevelled. He did not know what county he was in, what day it was, what month it was. They noticed he had no shoes."
Cllr Kenny said the man told the couple that some men had dropped him off in a van and he had been a long time in that van.
"They went to the local garda station and they got him tea and biscuits. He gobbled up the biscuits as he was ravenous so they got him some curry chips. They discovered he had been missing for the past eight months and that he was in fact an international high flyer. He was well spoken, intelligent and well educated."
Cllr Kenny said Mr McGeever was taken to hospital suffering from malnutrition and dehydration.
Irish broadcaster RTE's crime correspondent Paul Reynolds said Mr McGeever told gardai he had been kidnapped from his home by a masked gang eight months ago but he could not recall what happened to him after that.
"He told Gardai he was abducted by three masked men from the garden of his home in Craughwell in County Galway. That is a mansion of a home. He said the kidnappers had demanded a ransom for his safe release but he did not know whether a ransom had been paid," Mr Reynolds said.
"He was feeble and thin when found, as well as the weight loss he had a long beard and very long fingernails. He also had markings on his forehead which had been cut into him with a knife. A word was carved into his forehead which purports to say something about him."
Mr McKeever fronted KMM Commercial Properties and lives in a property estimated at 3m euros (£2.58m) during the boom. He has offices in Mullingar and owned a personal helicopter and a fleet of cars and limousines including a Porsche and two Hummers.
The Irish police confirmed they were investigating the circumstances surrounding the incident.