Spain 'doping doctor' Fuentes treated non-cyclists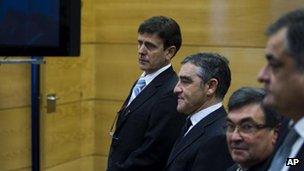 The doctor at the centre of a Spanish blood-doping trial has admitted treating athletes from sports other than cycling.
Eufemiano Fuentes said he had worked with athletes, footballers and boxers, as well as cyclists.
He did not say whether he had helped the other athletes dope, however.
Dr Fuentes is accused of endangering the health of cyclists while carrying out blood transfusions to help them dope. He denies the charges.
He was giving evidence for the first time at his trial in Madrid.
He did not give any names of athletes, and the BBC's Tom Burridge in Madrid says the trial is unlikely to shed light on doping beyond the world of cycling.
The case comes days after former seven times Tour de France winner Lance Armstrong admitted to using banned drugs and blood doping during his cycling career.
The chief prosecutor in the case says cyclists are the only athletes that can be identified from bags of blood seized in a raid on Dr Fuentes' office and apartment seven years ago.
They were labelled with codenames believed to relate to well-known cyclists.
But the World Anti-Doping Agency maintains that it was told in 2006 that the bags of blood were those of athletes from "several sports".
In his evidence, Dr Fuentes acknowledged that the bags of blood were labelled, in some cases with codenames.
But he said the aim of the transfusions was to protect athletes' health and improve their performance during training.
Dr Fuentes is being tried alongside his sister and three former cycling coaches.
If found guilty, the defendants could face up to two years in prison and a two-year professional ban.