Man arrested over Italian rare book thefts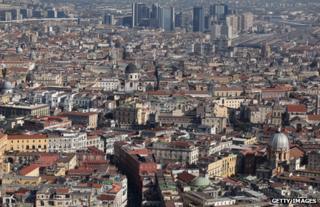 Police in Italy have arrested a book-binder after the discovery that hundreds of precious books were missing from a famous library in Naples.
The binder, who is based in Bologna, is suspected of removing stamps that showed stolen volumes came from the centuries-old Girolamini Library.
The library's director was arrested soon after the loss of the books was noticed by a visitor last year.
Four more people already in jail face charges of receiving stolen goods.
It is alleged that huge numbers of rare books were stolen and sold off to collectors around the world.
Police are trying to track down missing books, which are believed to now be as far away as France and Argentina.
'Complete disarray'
It has been described as the systematic looting of the Girolamini Library, the BBC's Alan Johnston reports from Rome.
Founded nearly 450 years ago, the library has been a great storehouse of rare books, known particularly for its works on philosophy and theology.
It had been closed to the public for a long period but last spring it suddenly emerged that something was desperately wrong.
A horrified visiting professor found the library in complete disarray, its shelves half-empty.
Soon there were reports that 1,500 precious books were missing, our correspondent says.
The library's director will be tried for alleged theft.
The book-binder is accused of being a link between those who took the books and the buyers.