Cameron speech heats up debate in European press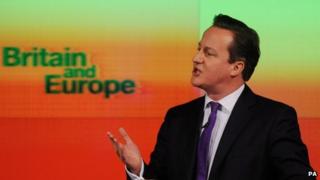 The speech by British Prime Minister David Cameron on his country's relationship with the EU continues to be a major talking point for the European press for a second day running.
Newspapers in Italy say that Mr Cameron has "married the Eurosceptics", calling his plans to renegotiate the terms of British EU membership and hold an in/out referendum a "credible threat of divorce".
The Spanish press also sees the speech as anti-European and adds that the UK just wants to use the EU as a "mere free trade area".
French commentators accuse the UK of "pointing a gun" at the continent's common future.
German analysts, however, point out that although "irritating", Mr Cameron's ideas should not be dismissed, as the EU can no longer avoid a difficult debate on its future.
Italy
David Cameron's speech is reported prominently in a number of major Italian newspapers.
Franco Venturini, in a front-page commentary in Corriere Della Sera entitled "The Impatient Englishman", says Mr Cameron's speech contained a "credible threat of divorce" from the EU. The real matter of contention in Europe is that "the eurozone steered by Germany wants more integration, while Great Britain wants less," Venturini explains.
For Fabio Cavalera, also writing in Corriere Della Sera, Mr Cameron has "abandoned ambiguities" and "married the Eurosceptic cause" in a high-stakes gamble that has drawn immediate criticism from his main European partners. "Whether [Cameron's speech] is a suicide note or a winning bet, is something that remains to be seen in the coming months and years," he writes.
Writing in leading financial daily Il Sole 24 Ore, Leonardo Maisano says that Cameron's intention of seeking to renegotiate Britain's membership of the EU is a strategy of "huge risks". "The psychodrama of a 'Brixit' based more on chance than conviction… is taking place under the eyes of the world, which is surprised at the prospect of a [British] island adrift. An island lost between those two continents, America and Europe that at one time it thought to unite."
Spain
Some Spanish analysts were perplexed by David Cameron's EU speech.
Writing in La Razon, Yves Bertoncini found it strange that the British prime minister would claim it was in his country's interest to remain within the EU, but at the same time would want to hold a referendum about a possible exit. "Above all this paradoxical speech reflects the weakness of the prime minister, caught between the Eurosceptic and pro-independence MPs on one hand and his European partners, whose patience could be at an end, on the other."
"At last the Eurosceptics will have the referendum," says Lluis Bassets in El Pais, adding that the "British Europe" proposed by Mr Cameron was "closest to a simple free trade area". "The Conservative dream is to link without intermediaries to the global market and to use the EU as a mere free trade area which is as deregulated as possible," the article explains.
Andres Ortega in El Pais thinks that "David Cameron presented himself as a heretic and as a blackmailer, but with clarity." Ortega was more worried however not about the EU's future without Britain, but that "if the UK moves away", this would push Spain "even more into the strapping arms of Germany".
France
Commentaries in the French press on Mr Cameron's speech are peppered with dramatic phrases.
Laurent Marchand writes in the country's best-selling daily Ouest France that the British prime minister has placed his country "in the middle of a perilous crossroads". "He presents himself as a pioneer of a necessary debate while being the member who makes the smallest number of proposals to carry the European project forward. It is as if he were putting a pistol charged with a single bullet on the table of the Twenty-Seven".
"Like Margaret Thatcher in her time, David Cameron is not concerned about the common interest in building a European economic - and necessarily political - power," says Jacques Hubert-Rodier in business daily Les Echos. He points out that if Mr Cameron does not manage to reform Europe "in accordance with his wishes", the risk of Britain leaving the EU will be "higher than ever". "But a 'Brixit' - Britain's 'exit' - would have more consequences for the United Kingdom itself than for the EU," the commentator warns.
"David, which way are you inclined?" asks Jean-Jacques Mevel in the daily Le Figaro. He thinks that Mr Cameron's speech "has not resolved anything", and that "European leaders continue to scratch their heads to understand what the United Kingdom really expects". "Unless London returns to reality, or the continent makes unlikely concessions, there is a danger of real standstill, with the resulting risk of a split or, worse, of Britain veering off the road uncontrollably, whatever David Cameron may hope for," predicts the article in Le Figaro. For Jean-Jacques Mevel, "the problem is that, apart from the United Kingdom, nobody is prepared to open Pandora's Box..."
Germany
German papers were also critical of the speech, with Carsten Volkery writing on the website of the weekly Spiegel that David Cameron was not able to get rid of "the old curse of the Tories", who were constantly preoccupied with Europe.
Nevertheless, many felt that the British prime minister had a point.
Martin Winter, in Sueddeutsche Zeitung, warns that as much as Mr Cameron's ideas may irritate pro-EU politicians, it would be a mistake just to dismiss them. "The formula that states that more Europe is always good for Europeans no longer hits home since the crisis. People would actually quite like to know exactly what 'more Europe' means in detail, and who bears the political and financial costs," he writes. "Europe cannot avoid this difficult debate by treating Great Britain like a pariah."
The tabloid Bild urges Britons not to turn their backs on the EU: "Dear Brits, please stay - after all, you're so beautifully crazy," it pleads (using the English for "crazy") before launching into a paean to an eclectic list of "crazy" Britons that includes Prince Philip, Sacha Baron Cohen, Boris Johnson and the Loch Ness Monster.
On a more serious note, it speaks approvingly of the fact that Mr Cameron has gone against the grain when most EU countries "have tacitly agreed to build Europe without input from the citizens, as if the European project is too important for democracy to have a say".
Ralf Sotschek, the UK correspondent of the centre-left Tageszeitung, sees Mr Cameron's initiative as a "domestic manoeuvre" aimed at ending Tory divisions. "Consequently, the alarm in other EU countries is rather overdone," he says. "There is nothing to stop some powers from being transferred from Brussels back to London. This will not break the EU." But Mr Sotschek sees a "residual risk" for Mr Cameron in the five years of economic uncertainty his plans entail, which could deny him victory at the 2015 election.
BBC Monitoring reports and analyses news from TV, radio, web and print media around the world. For more reports from BBC Monitoring, click here. You can follow BBC Monitoring on Twitter and Facebook.