Burger King drops burgers from Irish firm linked to horsemeat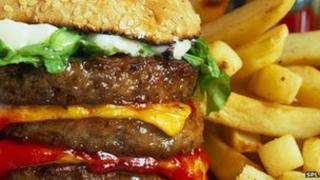 Burger King has says it is no longer sourcing food from an Irish supplier linked to horsemeat.
ABP Food Group, based in County Monaghan, insists there is no evidence its products for Burger King have been contaminated, but the chain said it was taking the action as a precaution.
It has emerged that some beefburgers on sale in UK and Irish Republic supermarkets contained horsemeat.
It was found after tests in the Republic by food safety officials.
The burger chain said that while it was not a food safety issue, they were replacing all products from Silvercrest, which is a subsidiary of ABP, in the UK and Ireland with items from another supplier.
ABP said it was concentrating its efforts on its internal investigations and it remained entirely focused on that task.
The Food Safety Authority of Ireland (FSAI) said the contaminated meat had come from two processing plants in the Irish Republic - Liffey Meats and Silvercrest Foods - and the Dalepak Hambleton plant in Yorkshire.
The burgers had been on sale in Tesco and Iceland in the UK and the Republic of Ireland, where they were also on sale in Dunnes Stores, Lidl and Aldi.
The officials said there was no risk to human health and the burgers had been removed.
A total of 27 burger products were analysed, with 10 of them containing traces of horse DNA and 23 containing pig DNA.
Horsemeat accounted for approximately 29% of the meat content in one sample from Tesco, which had two frozen beefburger products sold in both the UK and Ireland contaminated with horse DNA.
Silvercrest and Dalepak both said they had never bought nor traded in horse product and have launched an investigation into two continental European third-party suppliers.