Sean FitzPatrick, former boss of Anglo Irish Bank, to go on trial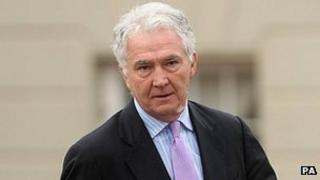 The former boss of Anglo Irish Bank is to go on trial at the start of next year, over his alleged role in the failure of the financial institution.
Sean FitzPatrick is accused of lending the bank's money to a so-called golden circle of investors in order to falsely inflate the bank's share price.
Mr FitzPatrick, a former chairman and chief executive of Anglo, faces 16 charges along with two other men.
The circle of investors included members of Sean Quinn's family.
'Largest loss'
Mr Quinn, once Ireland's richest man, is fighting a separate, high-profile legal battle against the former Anglo Irish Bank.
In 2009, Anglo suffered the largest lost in Irish corporate history and its affairs were taken over by the Irish Bank Resolution Corporation (IBRC) - an asset recovery bank.
Mr FitzPatrick, once a multi-millionaire banker and a leading light of the Republic of Ireland's Celtic Tiger economy, left Anglo in December 2008.
He was declared bankrupt in July 2010.
His co-accused are Anglo's former finance director, Willie McAteer, and its former managing director in Ireland, Patrick Whelan.
'24m documents'
On Wednesday, Dublin's Circuit Criminal Court heard that his trial will take at least three months.
However, the court was also told there are complex issues of disclosure in the case and that up to 24m documents may have to be considered before the trial can begin.
The prosecution asked Judge Mary Ellen Ring to designate a judge to hear all disclosure matters between now and the trial.
She will consider the matter and has adjourned the case for six weeks.
The trial is due to begin on 13 January 2014.