Plans to close Russian child cancer hospital denied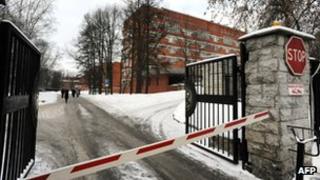 Amid outrage over a proposal to close a Russian children's cancer hospital, the spokesman for St Petersburg's governor has insisted it will not be touched.
"Governor [Georgy Poltavchenko's] position... is quite clear - this was, is, and will be a city hospital," Andrei Kibitov wrote on Twitter.
"Everything will remain the way it was," he told bloggers.
More than 106,000 people signed a petition to save Hospital No 31 after news of plans to break it up.
A protest rally was also called for Wednesday evening in the centre of St Petersburg, Russian President Vladimir Putin's home city.
Documents were revealed earlier this month showing that the city authorities had been asked to vacate the hospital so it could be converted to serve Russia's top court officials.
Both the Supreme Court and the Higher Arbitration Court are set to relocate to the city, Russia's former capital, from Moscow.
Mr Putin approved the transfer of the courts in November, when it was seen by many as a boost for St Petersburg's prestige.