France in the firing line of 'new jihad'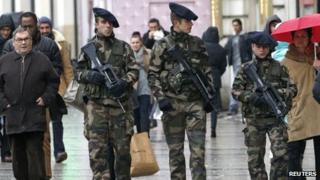 France is enemy number one for the jihadists in North Africa, according to one of the country's leading counter-terrorist judges.
Marc Trevidic told the BBC that jihadists had already been heading out to Mali and that French intervention would heighten the risk of lone wolf attacks in France.
However, he said the deployment of the French military was necessary to counter the dangers from Mali falling into the hands of extremists.
As a counter-terrorist judge, Marc Trevidic directs police and security service investigations into terrorist activity, building the cases against those to be prosecuted. It gives him a unique vantage point into recent events in North Africa.
Struggle for dominance
The ambition of the operation against the Algerian gas facility was a surprise, he says, but not the identity of the man behind the attack.
Mokhtar Belmokhtar has been on the radar of the French authorities for many years.
"He tried to recruit many French citizens in the past to make bomb attacks in France. So we have cases in connections with him," Mr Trevidic says.
He says that Belmokhtar's group only numbered 200-300 in 2003 but it has grown in wealth and influence thanks to trafficking and ransoms derived from kidnaps, allowing it to buy allies as well as arms.
Belmokhtar fell out with the leadership of Al-Qaeda in the Islamic Maghreb (AQIM) after the death of Osama Bin Laden and a struggle for dominance has been going on.
The attack in Algeria was part of this, Mr Trevidic believes. "I think he wanted to take the leadership of the jihad in the area," he argues. "Belmokhtar knows perfectly well that the Algerian authorities never negotiate - never. So he took a big risk.
"In his mind, he saw that it was a spectacular action and there was no way of avoiding the blood. But it was what he wanted."
'New jihad'
The French judge - who has been working on terrorism cases since 2000 - has no doubt that France is in the firing line of the jihadists.
"We are the enemy number one for them. There is a new jihad in Mali…. And there is another problem - we have a lot of connections between France and the population in this area - Malians, Nigerians, Senegalese."
In the last six to eight months, Mr Trevidic has run a series of investigations looking at individuals travelling from France to Mali to take part in jihad.
These individuals often then encourage their friends to join them. The small groups often begin with individuals with a North African background but then extend to their wider contacts.
Mr Trevidic says he has been surprised by the youthfulness of some of those involved, with some aged only 16 or 17.
He says there is no large, unified network organising people to be sent to Mali and the challenge will be cutting some of those pathways to prevent others joining them.
Immediate decision
Many had been preparing to do battle with foreign forces when they arrived later in the year but France's surprise military deployment this month has only intensified jihadist appeals for others to join them.
Mr Trevidic believes the French authorities will be able to keep track of most of those who they have identified as travelling to Mali.
"When they want to come back, we will be there," he says.
But there is still a threat.
He believes Belmokhtar is trying to inspire individual jihadists to carry out their own attacks, much like those by Mohamed Merah, who carried out a shooting spree around Toulouse last year.
"Belmokhtar [is] not able to build a big group to attack France," argues Mr Trevidic. "So he said, 'you are already in France do what you can. Do the jihad by yourselves. Fight France by all means you can find.'"
Despite the heightened threats to the country, Mr Trevidic says France was right to intervene in Mali.
"France didn't want to go alone in the beginning in Mali but it had no choice. Because can you imagine all these Islamic groups in Bamako?
"It is impossible to deal with that after. Two million inhabitants in Bamako. Little streets. Little souks. What are you going to do? It is easier to fight when they are in the desert in pickups. So it was a decision that had to be taken immediately."
The rise of Islamist militants in the Sahara