Doubts over Brussels-Amsterdam high-speed rail link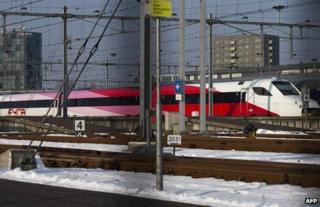 There are doubts over the future of a new high-speed rail link between Brussels and Amsterdam after services were suspended due to faults.
Delays beset the Fyra service after its launch on 9 December; and then parts of the undercarriages fell off during recent freezing weather.
The Belgian and Dutch operators have halted delivery of any further trains until the problems are addressed.
The new service was meant to cut the voyage between the capitals by an hour.
The Dutch junior minister for infrastructure, Wilma Mansveld, said on Monday it could be months before Fyra resumed services.
An existing high-speed service between Paris and Amsterdam via Brussels, Thalys, has been running more or less normally but is too expensive for some.
Critics note that the Benelux intercity service which Fyra replaced rarely caused problems during its half-century existence, even if the trip took three hours instead of two.
Fyra was the top trending term on Twitter in the Netherlands on Tuesday morning as people attacked the decision to abandon the original Benelux service.
The English version of Belgian news website deredactie.be ran an article on alternative cheap ways to reach Amsterdam from Brussels without a car, noting that, at two and a half hours, it was currently quicker to go by coach.
Snow and ice
Designed to cover the 200km (125 miles) distance between the capitals at speeds of up to 250km/h (155mph), Fyra's V250 train is built by Italian train maker AnsaldoBreda.
Its maiden trip was delayed by 23 minutes because of a faulty ceremonial starting cannon, not any failure of the train itself, but subsequent technical problems repeatedly caused delays.
During the first week of service, malfunctions left passengers stranded at various stops along the route, forcing some to switch to buses, Reuters news agency notes.
Last week's wintry weather saw the problems get even worse and the trains were taken out of service.
"It was a tragedy, hallucinatory," Belgian rail chief Marc Descheemaecker told Belgian broadcaster VRT.
"Those trains - pieces went flying. Doors didn't open. Doors didn't close. The steps didn't work."
The Belgian operator, NMBS, suspended its 63m euro (£53m; $84m) contract for three V250s on Monday, giving AnsaldoBreda three months to fix the problems or face legal action for damages.
Dutch operator NS, which has already taken delivery of nine V250s, said on Saturday it was suspending delivery of a further seven.
AnsaldoBreda issued two statements last Friday. It first said its trains were not to blame for the problems, then apologised that the undercarriages had been damaged by a build-up of snow and ice. It pledged to do its best to resolve the problem.
The company is a loss-making unit of the Italian industrial group Finmeccanica, which has been trying to sell it in order to cut debt and focus on defence and aerospace activities.