Stars come out for Lincoln European premiere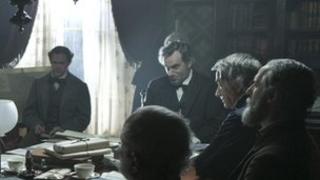 Abraham Lincoln is one of the United States' best loved and most respected presidents.
Murdered in office, his story of ending slavery and saving the union in the civil war against the confederacy has been the subject of many movies.
And Sunday night saw the European premiere of another one, Steven Spielberg's, Lincoln.
The director, a regular visitor to Ireland since filming Saving Private Ryan, was in Dublin for the event.
While accepting that Abraham Lincoln's is not as well known in the rest of the world as in America he said Lincoln's story has universal appeal.
"I think his character appeals to everyone. I remember everyone was afraid no one would go and see The King's Speech and they learned things they never knew before from Colin Firth's wonderful portrayal.
"So, I think Lincoln is a great character and whether you know much about him or not by the end of the story you'll know more than you ever thought you would," he says.
As Bono and his wife were posing for photographers on the red carpet Daniel Day Lewis appeared.
The County Wicklow resident could soon make history by becoming the first man to win three Best Actor Oscar awards by picking one up for his portrayal of Abraham Lincoln.
At his insistence the proceeds from all charitable events linked to the Dublin opening will go to the Wicklow Hospice Association.
He told me: "I'm really excited about this night. Against all the odds we've managed to make a real occasion out of this film's opening in Europe."
A patron of the Wicklow Hospice Association, he says the charity is dear to his heart after seeing how his late mother was cared for by another hospice-type organisation in England.
"I was so deeply grateful for the compassion, the kindness and the care of her hospice workers. And people need to have those facilities," he adds.
Wearing a black cocktail dress, Sally Field said she believed the story of Lincoln appealed beyond America.
A two-time Oscar winner, who plays Lincoln's wife, she is nominated again this year.
She said the film shows "Lincoln was the type who could rise up and hold responsibility. But more than that the movie talks about the complicated nature of things like human beings governing themselves."
Lincoln, the biopic of the American president who helped to free the slaves, will soon be on general release.