Fr Tony Flannery 'threatened with excommunication'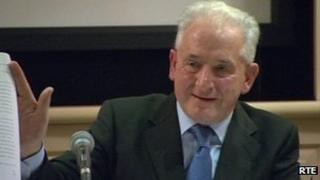 A Catholic priest has claimed he has been threatened with excommunication from the church because of his views on matters such as women's ordination.
Fr Tony Flannery, a high-profile Irish priest, is known for his liberal views on contraception and homosexuality.
Last year, he was disciplined by the Vatican's watchdog, the Congregation for the Doctrine of the Faith (CDF).
He claims he has now been asked to sign a pledge, supporting official church teaching on sexual matters.
'Big mistake'
The priest made the claim at a press conference in Dublin on Sunday, and said signing the pledge would violate his conscience.
"It would mean that I was saying that I accept the teaching on contraception, which I have been on record for a long time saying that I thought Humanae Vitae (official Catholic teaching on procreation) was a big mistake," Fr Flannery told the media.
He claimed that accepting the pledge would also mean that he "fully accepted all the teaching on homosexuality" including the church's use of what he called "some of the awfully unfortunate phrases - like disordered state and intrinsic evil".
Fr Flannery has been a member of the Redemptorist order, based in Galway in the Republic of Ireland, for more than 40 years.
He helped to set up the Association of Catholic Priests (ACP), a progressive organisation that represents more than 850 priests on the island of Ireland.
'Gagging order'
For 14 years, he was a regular contributor to the Redemptorist magazine, writing articles on a range of religious matters, in which he publicly opposed official church teaching on clerical celibacy, contraception, homosexuality and the ordination of women.
Last year, the CDF instructed him to stop writing for the magazine, leading some commentators to claim he was the subject of a Vatican 'gagging order'.
The CDF instructions were issued to at least five Irish priests, including broadcaster Fr Brian D'Arcy.
In a statement, the Irish Redemptorist order said it was "deeply saddened by the breakdown in communication" between its priest and the CDF.
It described Fr Flannery as "highly regarded and respected by many in Ireland" and added that there was a "very lively spirit of debate and dialogue" within the order.
'Challenging voices'
The statement said that although it did not accept the priest's views on all matters, it understood and supported his efforts to listen to and articulate the views of people he met during the course of his ministry.
"It is of immense regret that some structures or processes of dialogue have not yet been found in the Church which have a greater capacity to engage with challenging voices from among God's people, while respecting the key responsibility and central role of the Congregation for the Doctrine of the Faith," the statement said.