Pope Benedict XVI posts first tweet in Latin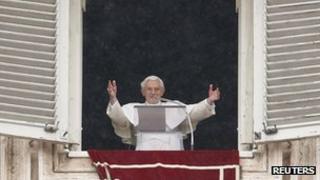 Pope Benedict XVI has posted his first Twitter message in Latin.
A month after sending his first much-anticipated tweet using his personal account - @pontifex - the Pope said: "What does the Lord ask of us as we work for Christian unity?"
And he answered: "To pray constantly, do justice, love goodness, and walk humbly with Him."
The Pope personally approves tweets sent in his name in nine languages and has some 2.5 million followers.
Most of them follow his English account.
In his first Latin tweet he asks his followers to pray always for the reunification of the Christian churches - "Orare semper, iustitiam factitare, amare probitatem, humiles Secum ambulare".
The Orthodox Church split with Rome 10 centuries ago and then the Protestants followed in the time of the Reformation in the 16th century.
As the Pope launched his account last month, a spokesman said the pontiff would "reach out to everyone".
So far, the Pope's accounts @pontifex - which mean "pontiff" or "builder of bridges" - are only following each other.
The Vatican has long shown interest in using the latest communications technologies to spread the faith with the inventor of radio, Guglielmo Marconi, setting up Vatican Radio in 1931.
It now uses many social media networks to spread its message, says the BBC's David Willey in Rome.
They include text messages and YouTube.
Papal aides say the pontiff himself still prefers to communicate in longhand rather than using a computer keyboard.
Pope Benedict's papacy has been bedevilled by poor communications.
Embarrassing clarifications had to be issued over such thorny issues as his 2005 speech about Islam and violence, and his stance on condoms and HIV.