More than 25,000 at Dublin anti-abortion rally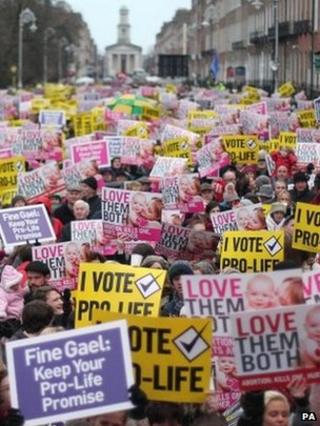 More than 25,000 people have attended an anti-abortion rally in Dublin.
The Vigil for Life campaign opposes any change to abortion legislation in the Republic of Ireland.
The Irish government has said that it will legislate for abortion in certain cases.
Pro-choice campaigners also held a counter-demonstration, with Irish police estimating the attendance at about 200.
Before the rally the Catholic Archbishop of Dublin, Diarmuid Martin, held a service for "the child in the womb".
A number of speakers, including Tyrone football manager Mickey Harte, addressed the crowd in Merrion Square.
Earlier, more than 100 activists gathered in the city to plan a campaign aimed a securing abortion rights for Irish women.
The Abortion Rights Campaign said the forthcoming legislation on abortion must allow doctors to perform terminations in situations where risk to the life of the mother is not immediate or inevitable.
It said such circumstances would include cases of rape, incest, fatal foetal abnormality or when a woman chooses not to continue with a pregnancy.
Last month the Irish government said that it would legislate for abortion in circumstances where the mother's life is at risk.
The move followed the death of Savita Halappanavar.
The four Catholic Archbishops of Ireland, including Cardinal Sean Brady, have criticised the decision.
Abortion is currently illegal in the Republic, except where there is a real and substantial risk to a mother's life, as distinct from her health.
However, up until now the government has not enacted legislation to give certainty to doctors as to when terminations can be carried out and under what circumstances.
The Irish government said the new legislative framework will require a combination of legislation and regulations in cases where the life of a woman is at risk.