'Two detained' over Kurdish PKK activists' Paris deaths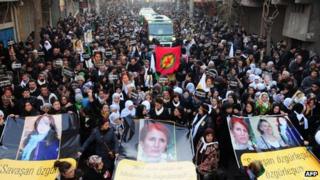 Two people have been detained in connection with the deaths of three Kurdish activists in Paris earlier this month, French media reports say.
A co-founder of the Kurdistan Workers' Party, Sakine Cansiz, and activists Fidan Dogan and Leyla Soylemez were found shot dead on 10 January.
According to unnamed judicial sources, two men were arrested on Thursday and are currently being questioned.
One of those arrested was the last to see the women alive, Le Point reports.
The bodies of the three women, who had all been shot in the head or neck, were found in the early hours of the morning at a Paris institute with close links to the rebel movement.
Peace talks
According to a source cited by AFP news agency, the two men were born in Turkey in 1974 and 1982 respectively, live in the Saint Denis district of Paris and are part of the women's immediate network.
The source said one of the men detained was a driver for one of the women, according to the French daily Liberation.
There have been demonstrations in the French capital to demand action over the deaths and, on Thursday in the Turkish city of Diyarbakir, tens of thousands took to the streets for the funeral of the three activists.
The shooting came as Ankara sought peace talks with the group, which it has fought for 25 years.
Turkish Prime Minister Recep Tayyip Erdogan has suggested the killings had been designed to sabotage peace talks between Turkey and the PKK.
It is regarded by Turkey, the US and European Union as a terrorist organisation, because of its attacks on Turkish security forces and civilians.
The PKK took up arms in 1984, demanding greater autonomy for Turkey's Kurds, who are thought to comprise up to 20% of the population.
In 2012 it stepped up its attacks, leading to the fiercest fighting in decades, but violence has subsided in recent months.