Russia court turns down Pussy Riot jail plea over child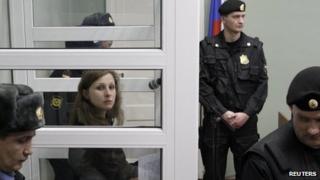 A Russian court has refused to defer the jail term of a member of punk protest group Pussy Riot over concerns for her child.
Maria Alyokhina, 24, had asked to serve the rest of her two-year sentence when her five-year-old son was older.
Her case was heard in Berezniki in the Perm region, near where she is jailed.
She was arrested last year after Pussy Riot interrupted a service at the main cathedral in Moscow with a protest song against President Vladimir Putin.
The ruling means that Alyokhina will remain in prison, some 750 miles (1,200km) north-east of her home in the capital, Moscow.
"The application for a deferral by Maria Alyokhina's lawyer, Oksana Darova, shall be refused. The court has decided that the fact that Alyokhina has a young child was taken into account by Moscow's Khamovnichesky court. No new circumstances have been established," the judge was quoted by Russian news agency Interfax as saying.
'Nothing to repent'
Alyokhina and fellow Pussy Riot member Nadezhda Tolokonnikova, 22, were convicted of "hooliganism motivated by religious hatred" over the obscenity-laced "punk prayer" against President Vladimir Putin, which they performed at the Christ the Saviour Cathedral on 21 February 2012.
The two women lost their appeals against their jail terms last October, but a third band member - Yekaterina Samutsevich - was freed with a suspended jail sentence.
"No-one will force me to say I'm guilty - I have nothing to repent for," Alyokhina had said in court earlier.
She had argued that her son Filipp was in his formative years and could not do without her.
"I'm in a situation where I have to prove here that my son needs me, which is obvious," she said.
Peter Verzilov, Tolokonnikova's husband, who has campaigned on Alyokhina's behalf, said before the ruling that Filipp "is small and misses his mother".
In November, she was transferred to solitary confinement because of tension with other inmates after she refused to join a hunger strike by other prisoners, her lawyer said.
The other inmates were said to have started behaving aggressively towards her.