Somalia's al-Shabab 'to kill' French hostage Denis Allex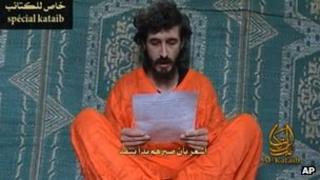 Al-Shabab militants in Somalia say they will execute the French intelligence agent Denis Allex in retaliation for a botched French operation to free him.
The French government, however, says it believes Mr Allex was killed by his captors during Friday's raid in which two French commandos died.
Al-Shabab have denied the French account. The militants have published an image of one of the dead soldiers.
But no proof of death has been made public for Mr Allex.
In a Twitter statement, al-Shabab said that, because of the rescue attempt, France would be responsible for his death.
The group said it had decided execute him to avenge the deaths of the dozens of Muslim civilians killed during Friday's operation.
The French Chief of Defence Staff, Adm Edouard Guillaud, told French radio that he believed Mr Allex was already dead and accused al-Shabab of "media manipulation".
On Friday, about 50 helicopter-borne French commandos launched an assault on the al-Shabab stronghold of Bulo Marer, where it is believed Mr Allex was being held.
Al-Shabab says it had advance warning of the attack.
France says 17 militants were killed during the fighting, which witnesses said was intense and last for at least an hour. Several civilians are reported to have been killed in the clashes.
The French Defence Minister, Jean-Yves Le Drian, said France had acted because of what he called al-Shabab's "unreasonable demands".
"The Shabab were asking for the release of I don't know how many jihadist prisoners around the world. It was impossible and completely unrealistic," he said.
A senior al-Shabab commander, Sheikh Mohamed Ibrahim, said the group had been warned about the impending raid, but gave no more details.
France has a large military base in neighbouring Djibouti, including army, marine and air force units.
For more than 20 years Somalia has seen clan-based warlords, rival politicians and Islamist militants battling for control of the country.
Last year, MPs elected a new president in a process backed by the UN.
Over the last 18 months, African Union forces working with Somali government troops have pushed the al-Shabab militants out of the major towns they controlled in central and southern Somalia.
But the group still controls a large area, including many smaller towns.