Corleone mayor says 'sorry' to mafia victims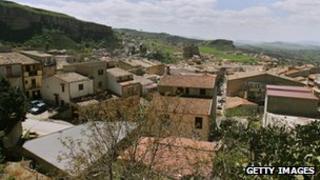 The mayor of the Sicilian town of Corleone, famous for its connections to the Cosa Nostra mafia, has apologised to victims of the criminal network.
Mayor Lea Savona said the town no longer belonged to the mafia and urged those who still formed part of the structure to hand themselves in.
She made her comments on the anniversary of the arrest of the town's brutal mafia boss, Toto Riina.
Ms Savona said she sought forgiveness for all the blood that had been shed.
"I apologise on behalf of all of Corleone, I ask forgiveness for the blood that was paid," she said.
"To the mafia, I ask you to leave this land, and to abandon the struggle," she said, according to the Gazzetta del Sud newspaper.
"I ask them to admit defeat, to surrender in awareness that this earth, at last, one day, shall be liberated."
The BBC's Alan Johnston, in Rome, says that although the mafia still has a presence in the town, some 60km from the Sicilian capital, Palermo, it is no longer the force it once was there.
During a ceremony in which she unveiled a street renamed after a mafia prosecutor, Ms Savona listed mafia victims, including anti-mafia prosecutors Giovanni Falcone and Paolo Borsellino, who were killed in separate bomb blasts in 1992.
Riina, known as The Beast, is currently serving multiple life-sentences after leading the Corleonesi faction of the criminal network to the top of the Sicilian mafia and waging a ruthless campaign of violence against rival mobsters and the Italian state in the 1980s and early 1990s.