Irish paramotor pilot 'endangered public'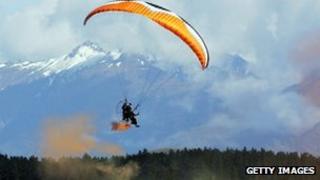 The pilot of a microlight type aircraft which crashed while doing a low-level fly-past at a vintage tractor rally was endangering the public, Irish air crash investigators have said.
The paramotor - a parachute with powered seat underneath - hit power lines at Carrowpadden near Dunmore in County Galway on 5 August 2012.
The 63-year-old pilot suffered minor injuries.
A crash report said the pilot did not have a flying licence.
The pilot told investigators that the crash happened when he was monitoring a helicopter operating pleasure flights from the field where the rally took place.
He said that he hit the power cables, which were about 10 metres high, and "was on the ground before I knew what happened".
An Air Accident Investigation Unit report said it was a serious incident. It said that the aircraft was being flown contrary to the rules of the air, at a low height near to and therefore endangering members of the public.