Silvio Berlusconi: Ruby sex trial plea rejected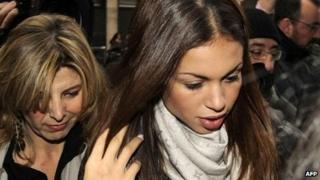 An Italian court has denied the request of former PM Silvio Berlusconi to halt a trial where he is accused of having sex with an under-age prostitute.
The court in Milan also decided it did not need to hear testimony from the woman - dancer Karima El Mahroug.
Mr Berlusconi's lawyers requested the trial be halted while he runs in the current election campaign.
Both he and Ms Mahroug - better known by her stage name "Ruby Heartstealer" - have denied ever having sex.
Mr Berlusconi stepped down from a third term as prime minister in November 2011, when he was replaced by the technocrat Mario Monti.
His People of Freedom (PDL) party is hoping to form a centre-right coalition government with another party but have not named a candidate for prime minister.
On 7 January, an ally of Mr Berlusconi's said that he would not return as prime minister even if his party won the elections next month.
Mr Berlusconi however has not explicitly ruled himself out of running the premiership, saying the candidate for the post "will be decided if we win".
Rejection
Lawyer Niccolo Ghedini said Mr Berlusconi would be too busy campaigning to follow the case or attend court - and also feared the trial could influence the election.
But judges rejected the application.
Prosecutors have accused the defence of trying to prolong, and now delay, the trial to avoid a verdict before the election, at the end of February.
Ms Mahroug had arrived at the trial to give testimony for the defence.
She has been called twice before, but failed to show up, apparently because she was on holiday in Mexico.
Mr Berlusconi, now 76, is accused of paying to have sex with Ms Mahroug in 2010 when she was 17. Sex with a prostitute who is under 18 is a crime in Italy.
The billionaire media mogul has admitted sending Ms Mahroug money - but insists he was just making gifts to a friend in need.
Abuse of power
Prosecutors say they had sex on 13 occasions. He denies having had sex with her, and testified that, in any case, she had told him she was 24.
Ms Mahroug also denies having sex with him - or being a prostitute.
Mr Berlusconi is also accused of abuse of power, for intervening after Ms Mahroug was briefly held by police over theft claims. He allegedly urged police officers to release her, telling them, falsely, that she was a granddaughter of former Egyptian President Hosni Mubarak.
He admits making the phone call, but denies putting police under pressure - and testified that Ms Mahroug had told him she was related to Mubarak.
Mr Berlusconi faces up to 15 years in jail if found guilty.
This is one of many cases that have dogged the former prime minister. In the most recent, he was convicted of tax fraud in connection with the purchase of broadcasting rights by his Mediaset TV company.
He was sentenced to a year in prison and barred from holding office for five years - though this will not be enforced until his appeal is complete.