Baby born on Armenia plane 'named after stewardess'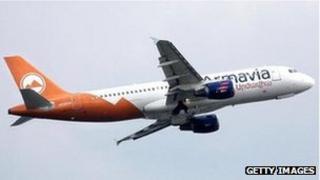 A woman has given birth to a baby girl on a plane flying from Russia to Armenia, local media say.
They say the baby was named Hasmik - after the flight attendant who helped deliver her, Hasmik Ghevondyan.
The mother's identity has not been revealed. Both she and the baby are reportedly doing well.
The flight, operated by Armenia's Armavia airline, landed in Yerevan. Ms Ghevondyan is quoted as saying that the whole crew helped deliver the baby.