Costa Concordia wreck to be removed by September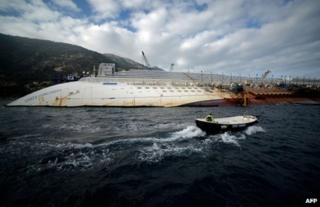 The wreck of the Costa Concordia cruise ship in Italy will be removed by September at the latest, officials overseeing the work have said.
It has been lying on its side off the island of Giglio, on the coast of Tuscany, since it capsized a year ago with the loss of more than 30 lives.
Because it lies in a marine nature reserve, cutting it up could be hugely damaging to the local environment.
Instead, it will be lifted upright and towed to the mainland for dismantling.
The ship hit rocks and sank off the Italian coast on 13 January 2012.
The captain is accused of causing a shipwreck, manslaughter and abandoning ship before all passengers were evacuated.
Tourism affected
Giving the latest time schedule, officials said that it might be possible to remove the Concordia as early as June.
The local islanders are desperate to see it go as they depend almost entirely on tourism, the BBC's Alan Johnston reports from Rome.
Although the wreck has attracted some sightseers, such people only come for the briefest time and spend almost nothing, our correspondent says.
Meanwhile, the islanders say that the more traditional, long-stay tourist trade has been cut by at least 40%.
People just do not want to spend their holiday in a place that is the scene of a colossal salvage operation, our correspondent adds.
And for local people, the presence of the wreck just beyond the harbour is a constant reminder of the disaster, he says.