Nastassja Kinski praises sister for reporting sex abuse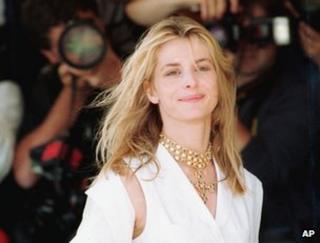 The actress Nastassja Kinski has praised her half-sister Pola for her courage in reporting that their late father Klaus abused her as a child.
Pola said she had been abused between the ages of five and 19 by the actor, who died in 1991 after a career making some of Germany's most notable films.
Nastassja was quoted by Bild newspaper as saying she was "deeply shocked" by the revelations.
But she was proud, she added, that Pola had found the strength to speak out.
The elder sister, 60, made the revelations in an interview published by Stern magazine on Thursday, ahead of the publication of her autobiography.
Klaus Kinski acted in spaghetti westerns before starring in films by director Werner Herzog which included Aguirre The Wrath of God (1972), Nosferatu the Vampyre (1979) and Fitzcarraldo (1982).
Revered by many for his film work long after his death, he was also famous for his numerous sexual liaisons with adults.
'Heroine'
"My sister is a heroine, because she has freed her heart, her soul and also her future from the weight of the secret," Nastassja Kinski said.
"This is a difficult moment for me. I am on my sister's side, I support her. I am deeply shocked."
The actress, 51, whose films include Roman Polanski's Tess and Paris Texas by Wim Wenders, said she had read Pola's words and wept.
Pola's book Kindermund, she argued, would help "all the children, adolescents and mothers who fear their father and swallow this fear to hide it in the depths of their souls".
Pola Kinski, herself an actress, spoke to Stern ahead of the release of her autobiography.
She said she had decided to speak out about the abuse because of the continuing adulation for her father.
"The terrible thing is that he once told me that it was completely natural, that fathers all over the world did that with their daughters," she said.
"He was paying for me to be his little sex object, placed on silk cushions."
A biographer of Klaus Kinski, Christian David, told BBC News there had been rumours about the relationship between the actor and Pola for years before this week's revelations.