Irish abortion law hearings: Religious bodies make submissions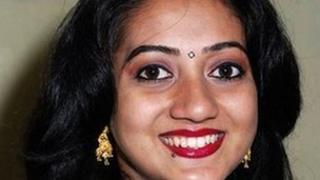 Religious representatives are due to make submissions to an Irish parliament hearing on the issue of abortion later.
The committee was set up following the Irish government's decision to legalise abortion in limited circumstances.
It is expected to allow a pregnancy to be terminated in cases where there is a risk to the life of a woman, as distinct from a risk to her health.
The credible threat of suicide by a pregnant woman would also be considered grounds for an abortion.
The move is opposed by the Catholic Church.
The Fine Gael-Labour coalition said it would bring in legislation and regulation on the issue by the summer.
Before the legislation is drafted, the government has committed to hearing from various interested parties.
The committee heard from the masters of two of Ireland's large maternity hospitals on the first of three days of hearings on the abortion issue.
The second day of hearings focused on the legal aspects of the government's proposals.
On Thursday, religious representatives including the Irish Catholic Bishops Conference, the Church of Ireland, the Presbyterian Church of Ireland, the Methodist Church of Ireland and the Islamic Cultural Centre of Ireland will make submissions on the issue.
The committee will report back to the Irish government by the end of January.
The abortion debate in the Republic of Ireland received a higher profile following the death of Savita Halappanavar in a hospital in Galway in October.
The 31-year-old, who was 17 weeks pregnant, died at University Hospital Galway following a miscarriage.
Her family said she had asked several times for an abortion before she died.
The death of the Indian-born dentist sparked international protests and reignited the debate on the Irish Republic's abortion laws.